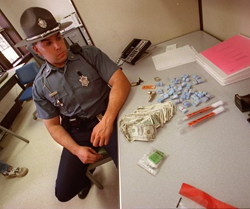 We are here to offer the medical care you need in a discreet and comfortable environment to discuss the use of medical marijuana," says Dr. Shapiro.
New York, New York (PRWEB) May 03, 2016
With an opioid epidemic on the rise, medical marijuana legalization in New York for eligible patients may just be what the doctor ordered. Howard M. Shapiro D.O., who runs a primary care practice in Midtown Manhattan is optimistic that "medical marijuana will eventually become the go-to medication of the future for a diverse number of ailments and conditions." According to the CDC (Center for Disease Control) the exponential increase of prescription opiate overdoses account for more than 50% all opiate overdose deaths. This disturbing statistic in part prompted Dr. Shapiro to reassess the efficacy of opiate based medications for patients requiring long-term pain management.
Just this March, the U.S. Centers for Disease Control and Prevention issued new recommendations aimed at reducing the number of pain medications being prescribed nationwide. Of course marijuana was not included as one of the alternative treatments listed under nonopioid medications for chronic pain. The short list included gabapentin/pregabalin (Neurontin, Lyrica), topical agents (capsaicin, lidocaine), and few different classes of anti-depressants (SSRIs). Gabapentin, whose generic form has only been on the market since 2004 has become recommended as one of the first-line medications for neuropathic pain or neuropathy. According to a Cochrane review, only about 14% of people found substantial relief for their neuropathic pain.
Patients are paying on average $100-$200 for a monthly supply for a medication that hardly works and induces a laundry list of side effects including an increased risk of suicide confirmed by the Journal of the American Medical Association. Fortunately, any type of neuropathy qualifies for the NY program. Patients looking to explore the use of medical cannabis can easily request an appointment with Dr. Shapiro's office, listed as New York City Health & Wellness Center on http://www.MarijuanaDoctors.com, a nationwide online booking platform serving the 24 legal states and D.C. MarijuanaDoctors.com has been an invaluable resource for patients seeking cannabis friendly physicians, especially in a state like New York where only about 1% of all practicing physicians in the entire state are actively certifying patients.
Although marijuana is not yet FDA approved, the American Cancer Society and National Cancer Institute have both confirmed its various medical benefits and the need for more research studies. In the short time of participating in the New York Medical Marijuana program since its inception in January, Dr. Shapiro has found that it has been one of the most rewarding experiences in his 40 years of practice. He hopes to provide evidence based data with the success rate he has seen with his own patients, especially those who do not benefit from overly advertised and popular drugs like gabapentin.