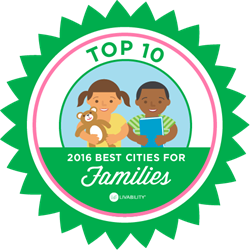 The communities we choose to live in as we raise children are arguably the most important, as they tend to be some of the places we live the longest.
(PRWEB) May 02, 2016
Many of the key reasons Americans move revolve around doing what's best for their families. People move at certain key stages – as they get married, as they have kids, as their kids become old enough for school, and as their kids head off to college. The communities people choose to live in as they raise children are arguably the most important, as they tend to be some of the places they live the longest. With this in mind, Livability.com has named the 10 Best Cities for Families, 2016.
To select these cities, Livability editors crunched the data, much as any parent would do when deciding on a great place to put down roots. Editors looked at the quality of schools, crime rate, and measures of the quality of healthcare and economy. Points were given to communities that are walkable, diverse, and have lots of parks and active children's sections in their libraries. Editors favored communities with shorter commute times (so working parents can spend less time on the road and more at home) and larger populations of kids with which to play.
As with all of our Top 10 lists, this data-driven process produces a shortlist that Livability editors then use to guide the selection of cities. Not every city will necessarily be a perfect match, but our hope is that one of the 10 will be a good fit for you--and in this case for your family, too.
"As a parent, I understand how important it is to choose the right community to raise your children in," said Livability editor and chief trend analyst, Matt Carmichael. "Every day I see how the community I live in shapes my children, and we're proud to put out this ranking to help other parents find great places to raise their kids, too."
10 Best Cities for Families, 2016
1. Rockville, MD
2. Chandler, AZ
3. Newton, MA
4. Holland, MI
5. Chula Vista, CA
6. Oak Park, IL
7. St. George, UT
8. Homewood, AL
9. Bowling Green, OH
10. Palo Alto, CA
About Livability.com​:
Livability is a relocation site focused on how cities, especially small to mid­sized cities, become great places to live. Through proprietary research studies, engaging articles and original photography and video, we examine topics related to community amenities, education, sustainability, transportation, housing and the economy. We then leverage that expertise to develop city rankings for a range of topics including small towns, college towns and our annual Top 100 Best Places to Live.