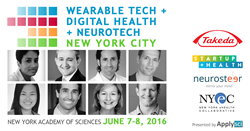 The health sensor (and data) revolution
New York, NY (PRWEB) May 03, 2016
Wearable Tech + Digital Health NYC and NeuroTech NYC, the sensor and data driven conferences, will take place on June 7-8, 2016, at the New York Academy of Sciences. 
Keynotes include:

UnitedHealth's Vidya Raman-Tangella on incorporating technology -- including AR/VR, machine learning, apps, robotics and AI -- throughout a major health system
DARPA's Justin Sanchez on the agency's biological technology initiatives and priorities
Tel Aviv University & Neurosteer's Nathan Intrator on non-invasive, mobile, detailed cognitive & emotional brain activity interpretation for wellness & disease management
NeuroVigil, NASA & MIT's Philip Low on brain computer interfaces that allow the disabled to communicate, improve senior care, and monitor healthy brains in various scenarios
MIT, Empatica, & Affectiva's Rosalind Picard on wearables that track stress, emotions, seizures & social cues
Cornell Tech's Deborah Estrin on Small Data
Trauma Surgeon Rafael Grossmann, the first to use AR in the operating room, on technology for better, more humane, medical care
Olympic Cyclist Sky Christopherson on achieving peak performance with wearables
Harvard, Mass General, & Brain Power's Arshya Vahabzadeh on the (digital) future of psychiatry
Click to view all speakers
The conference - sponsored by Takeda, StartUp Health, Neurosteer, OpenBCI and NYeC - will result in interdisciplinary collaboration for less invasive, more accessible, data optimized tools to improve life. It is curated by ApplySci - editors of the ApplySci discoveries blog, and producers of global wearable tech, digital health and neurotech conferences.
Registration rates increase weekly. Press/media requests are received and reviewed individually by email.