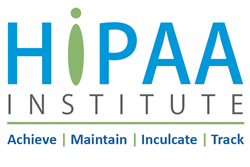 Achieve HIPAA compliance, maintain your compliance status, inculcate awareness in your team, and track and control your compliance processes with HIPAA Institute.
Durham, NC (PRWEB) May 03, 2016
The new web-based solution HIPAA Institute, developed by SuperCoder, helps healthcare organizations, especially medium and small physician practices, to better grasp and implement HIPAA's privacy, security, and data breach requirements.
HIPAA Institute uses a unique step-by-step approach that guides practices on a well-defined, expert-created path to compliance. HIPAA Institute has positioned itself to be an all-in-one resource that allows users to create and maintain HIPAA policies and procedures, perform risk assessments, identify gaps in compliance processes, and keep their staff members up to date.
One of the key features the site offers as part of the step-by-step approach is a library of ready to use templates for a wide variety of compliance needs.
Users get convenient access to 83 policy and procedure templates. Compliance areas the policies and procedures cover include access authorization, control, validation, establishment, and modification; accountability for tracking equipment and media movement; accounting of PHI disclosures; addressing of security incidents; administrative safeguards; amendment of PHI; breach notifications; data backup plans; encryptions; and many more.
Users get the option of downloading content from a repository of about 30 forms on the site, too. Examples include forms for privacy complaints, disclosure of PHI, notifications, and designation of a personal representative.
HIPAA Institute also supports HIPAA compliance with a variety of carefully crafted templates for different kinds of agreements and contracts, such as the business associate agreement (BAA) and subcontractor BAA.
Additionally, to enhance users' understanding of HIPAA, two manuals provide a comprehensive description of all the HIPAA rules, standards, and regulations.
Another approach HIPAA Institute uses to provide compliance support is the Ask an Expert feature, a quick go-to resource for all the user's queries. "If you have a compliance question, Ask an Expert has the answer," says Geeta Chopra Bhagat, product manager for HIPAA Institute. She adds, "This Q&A tool allows users to submit their compliance related questions directly to a HIPAA compliance expert. The expert will respond with the answer, supporting information, and explanation."
Users who need online HIPAA training for employees can check out HIPAA Institute's eLearning module. It not only helps users to generate Continuing Education Units (CEUs) approved by AAPC, but the module also provides in-depth analysis of the HIPAA rule and what it means for practices.
"Having established policies and procedures means little if your team isn't intimately familiar with them," says Bhagat. According to the Office of the Inspector General (OIG), implementing an ongoing compliance training program for staff is a requirement for covered entities and their business associates (hospitals, healthcare providers, individual clinics, etc.) to stay HIPAA compliant.
HIPAA Institute also offers comprehensive training modules covering various topics that relate to HIPAA compliance, such as the HIPAA Privacy Rule, Security Rule, risk assessment, Breach Notification Rule, and many more.
About The Coding Institute & HIPAA Institute
The Coding Institute (TCI) specializes in educating physicians, coders, billers, practice managers, and others in best practices to ethically increase revenue, improve compliance, and boost productivity by focusing on hotspots and smart strategies in medical coding, documentation, compliance, and process improvements in healthcare systems. TCI provides online resources through SuperCoder, audio conferences through Audio Educator, medical coding charts through Rapid Coder, on-site conferences through Coding Conferences, and now HIPAA compliance solutions through HIPAA Institute.