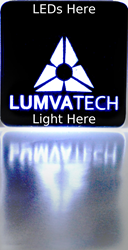 Lead time is reduced. Greater project control for customers.
Williamston, SC (PRWEB) May 10, 2016
Lumvatech today announces a delivery and production transition. The company will focus on shipment of light guide panels in sheet form. The process transformation will begin with sales and design. All new high volume customer projects are being directed toward solutions that allow mass production of light guide panels using customer/partner labor and equipment for non-IP based phases of the processing and assembly. This is facilitated in part by ongoing enhancements in the company's IP based imaging technology. This now allows the rapid and efficient production of many images and panels on the edge referenced, dimensionally standardized plastic sheets.
Production and operations support this shift from individually cut panels to sheet form light panels. Today most light guides are shipped as individual units ready for further assembly or processing. The new model will transfer the cutting and singulation of light panels to the next level in the supply chain.
The cutting, assembly, and processing of the light panels continues to move down the supply chain toward the end user. "Our customer/partners continue to gain experience assembling and designing user interfaces with LED lighting" stated Martin Proctor Director of New Business Development. "We are finding that they can and want to take on the extra processing."
The company has transitioned their plastic supply chain to providing edge registered, pre-cut polycarbonate and acrylic sheets. Enhancements in the companies' IP based tooling and imaging technology have enabled the transition to improve efficiency. The company confirms success with new project development and customer acceptance.
About Lumvatech
Lumvatech is a leading U. S. based manufacturer of ultra thin planar light panels for LED backlighting. Proprietary technology allows custom thin solutions for human machine interfaces with dome, membrane, and electronic touch switches, logo nameplates, and POP display lighting. Lumvatech products are available exclusively to the HMI and advertising production channels.
To gain additional information please see lumvatech.com or click for CONTACT INFO.
To view Lumvatech product portfolio CLICK HERE to visit the Lumvatech channel at YouTube or see our COMPANY PRESENTATIONS on SlideShare.
For more information on this transition CLICK HERE.