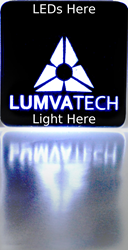 Profit, revenue, and production control are transferred to customers.
Williamston, SC (PRWEB) May 24, 2016
Lumvatech is now several weeks into the shift from light panel to the delivery of multi-up light panel sheets. The customer acceptance has been overwhelmingly positive. Design changes to thinner panels and alternate materials more suitable to automated cutting have been well received. Lower profile LEDs or creative stack ups are presenting smooth and bright lighting. Overall costs are seen as being reduced with shorter production lead times.
The production success has been facilitated by a change in material procurement and delivery to pre-cut, edge registered polycarbonate and acrylic sheets. The handling and production of light panels from pre-cut sheets presents a significant cost and time reduction. High volume projects being designed using sheet delivery methods also require shorter lead times and offer more flexible supply chains. The move to cut, assemble, and laminate at multiple locations has shown vast improvement in production volumes and reduced lead times.
There is a transition to customer provided materials as well. Many customer processes have specific registration requirements and cutting limitations. Customers providing pre-cut process specific sheets ensures that they receive custom imaged light panels in sheet form that allow efficient processing.
"The change to customer cutting and processing transfers the profit and processing to the customer," stated Martin Proctor, Director of New Business Development. "This adds value to their supply chain and in house revenue stream increasing profit. The customer/partners also maintain a higher level of control over the finished product they are delivering."
Project development has shifted to sheet level design and implementation of alternate cutting processes. Panel singulation moves to customer control.
Rapid prototyping continues. Provides rapid assessment and demonstration of their LED backlit user interface designs by customers.
Cutting is still available from Lumvatech. It is limited to product development, prototyping, and low volume/high value programs. Existing projects using in house cutting and assembly can and will continue.
About Lumvatech
Lumvatech is a leading U. S. based manufacturer of ultra thin planar light panels for LED backlighting. Proprietary technology allows custom thin solutions for human machine interfaces with dome, membrane, and electronic touch switches, logo nameplates, and POP display lighting. Lumvatech products are available exclusively to the HMI and advertising production channels.
To gain additional information please see lumvatech.com or click here for CONTACT INFO.
To view Lumvatech product portfolio CLICK HERE to visit the Lumvatech channel at YouTube or see our COMPANY PRESENTATIONS on SlideShare.