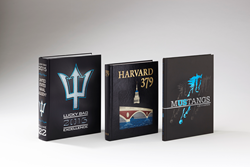 Minneapolis, MN (PRWEB) May 03, 2016
Jostens, the leading provider of publications, jewelry and consumer goods serving the K-12 and college market, and three of its yearbook customers brought home awards at the Foil & Specialty Effects Association (FSEA) Gold Leaf Awards during the FSEA National Conference in Orlando, Florida. Yearbook covers produced by Jostens received honors in the Hard Cover "Difficult Application of Special Diecut," "Best Use of Embossing – Difficult," and "Bound Book/Publication" categories.
The FSEA Gold Leaf Awards are a collection of the most creative, brilliant and technically difficult works in the industry. The FSEA Gold Leaf Awards cover everything from book covers and jackets to calendars and holographic foils, and a panel of industry experts judged the pieces in three categories: design, execution and level of difficulty.
The following Jostens Yearbook Covers were recipients of the 23rd Annual FSEA Gold Leaf Awards:

"Difficult Application of Special Diecut" Category: Lucky Bag, U.S. Naval Academy [MD] – Gold
"Best Use of Embossing - Difficult" Category: Harvard 379, Harvard Yearbook Publications [MA] –Silver
"Bound Book/Publication" Category: Mustangs, Mountain Range High School [CO] – Bronze
"We are honored to be recognized by the FSEA for these winning yearbook covers designed and produced in collaboration with our customers. These awards recognize Jostens industry leadership in innovation and experimentation with new cover production techniques and applications to provide Yearbook staffs with best-in-class creative options to help tell their unique story of the school year," said Murad Velani, chief operating officer, Jostens. "Jostens is home to one of the largest and most advanced cover plant in the publishing world. Making a strong first impression with the book cover is an important part of the yearbook experience. We are very proud of our expert teams of cover designers, yearbook representatives, creative artists and operations make it possible for Jostens to be recognized as the best in the industry."
To learn more about the FSEA Gold Leaf Awards and view the full list of winners visit http://www.fsea.com/content/awards/gold-leaf16.shtml.
About FSEA
Since its inception in 1992, the Foil & Specialty Effects Association has worked toward industry awareness and growth. It serves as a resource and educational platform for decorating technologies, including foil stamping, embossing, cold foil technologies, specialty coatings, laminates and laser cutting.
About Jostens
Jostens is a trusted partner in the academic and achievement channel, providing products, programs and services that help its customers celebrate moments that matter. The company's products include yearbooks, publications, jewelry and consumer goods that serve the K-12 educational, college and professional sports segments. Founded in 1897 and based in Minneapolis, Minn., Jostens is a subsidiary of Newell Brands and can be found online at http://www.jostens.com.
About Newell Brands
Newell Brands is a leading global consumer goods company with a strong portfolio of well-known brands, including Paper Mate®, Sharpie®, Dymo®, EXPO®, Parker®, Elmer's®, Coleman®, Jostens®, Marmot®, Rawlings®, Irwin®, Lenox®, Oster®, Sunbeam®, FoodSaver®, Mr. Coffee®, Rubbermaid Commercial Products®, Graco®, Baby Jogger®, NUK®, Calphalon®, Rubbermaid®, Contigo®, First Alert®, Waddington and Yankee Candle®. Driven by a sharp focus on the consumer, leading investment in innovation and brands, and a performance-driven culture, Newell Brands helps consumers achieve more where they live, learn, work and play.