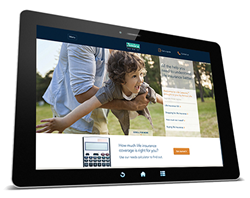 LINCOLN, R.I. (PRWEB) May 02, 2016
Amica Life Insurance Company has unveiled AmicaLifeLessons.com, an educational website to help consumers better understand life insurance throughout various life stages.
The site launched on April 1, and it has many helpful resources, including an easy-to-use life insurance needs calculator and content specific to the times when life insurance matters most.
"Through our research, we found that only 15 percent of Americans claim to be very knowledgeable on the subject of life insurance," said Ted Shallcross, senior vice president and general manager of Amica Life. "The Life Lessons® website was designed to meet the needs of consumers by offering a wealth of educational resources for consumers in the research, shopping and buying stages."
The site has several resources that address the role of life insurance, including:

Educational guides
Informative articles
Helpful videos
Answers to FAQs
Life insurance needs calculator
Quoting options
Live chat and consultation scheduling
"One of the reasons we're launching this site is to meet the ever-changing needs of consumers, who are doing more and more of their research online," Shallcross said. "We hope they take full advantage of the site to get the right amount of coverage to help protect their family's financial security."
To check out the site, visit AmicaLifeLessons.com.
About Amica Insurance
Amica Mutual Insurance Co., the nation's oldest mutual insurer of automobiles, was founded in 1907. The company, based in Lincoln, Rhode Island, is a national writer of auto, home, marine and umbrella insurance. Life coverage is available through Amica Life Insurance Company, a wholly owned subsidiary. Amica employs more than 3,400 people in 44 offices across the country. For more information, visit Amica.com.
Media inquiries can be sent to MediaCenter(at)amica(dot)com.
Twitter: Amica
Facebook: Amica Mutual Insurance Co.