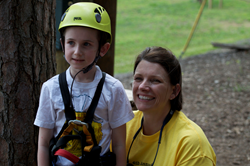 The money we raise is important, because there is not enough funding for services to meet the needs of children in our area.
Asheville, NC (PRWEB) May 03, 2016
On Sunday, June 5, teams will zip through the treetops of Asheville to support local individuals and families affected by autism. The 5th annual Zipping for Autism, which was the first event of its kind in the country, will support the Autism Society of North Carolina.
Jeff and Sheena Greiner, owners of Asheville Zipline Canopy Adventures, wanted to give back to the organization that has served their son over the years. All proceeds raised by individuals and teams will go to the Autism Society of North Carolina to offer respite, increase advocacy and services, and assist families in the region.
"The money we raise is important, because there is not enough funding for services to meet the needs of children in our area. There is an increase in prevalence of Autism Spectrum Disorder in our state; 1 in 58 children born in NC has ASD," said Sheena Greiner.
Teams of up to 10 people will raise at least $800 to fly through tree-lined corridors and enjoy spectacular views of the Asheville skyline on this urban canopy tour. Zipline canopy rangers will assist all participants with "ground school" training and safety gear for their two-hour zipline experience, which will be scheduled for specific time slots throughout the day beginning at 8 a.m. Teams raising $1,100 or more will also climb, zip, walk, jump, swing, and rappel over towering trees in the wooded Adventure Park.
Teams can register online at http://www.zippingforautism.com until June 1. The website allows teams to generate donations and track progress, provides sponsorship opportunity details, and offers volunteer registration for those who want to help behind the scenes. After June 1, please contact Sheena Greiner at 828-713-3476.
Asheville restaurants are also giving back through Spirit Nights. Participants can earn money for their team by eating at each restaurant during the specific nights:

Juicy Lucy Burger Bar and Grill - May 18
Wild Wing Café - May 31
Iannucci's Pizzeria & Italian Restaurant - May 11
"We applaud the Greiners, the other parents of children with ASD, and the volunteers who have come together to create this unique fundraiser, and we appreciate the teams of individuals and businesses who will join this exciting community event," said Greta Byrd, Western Regional Services Director for ASNC.
For more information or to register, go to http://www.zippingforautism.com.
For an interview or quote about Zipping for Autism team or sponsorship experience, contact Ashville Zipline Canopy Adventure owner Jeff Greiner at 828-713-3475 or wjgreiner(at)aol(dot)com.
Background:

Autism Spectrum Disorder (ASD) is a lifelong developmental disability that typically appears during the first three years of life. A prevalence study by the CDC indicates as many as 1 in 59 8-year-old schoolchildren in North Carolina may be diagnosed with autism.
For more than 46 years, the Autism Society of North Carolina has worked to address areas of need and expand services for the autism community in North Carolina. ASNC works to directly improve the lives of individuals affected by autism by providing advocacy, education, and services.
For more information, call 1-800-442-2762 or visit http://www.autismsociety-nc.org.