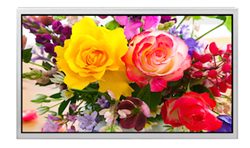 eDP is a high speed serial interface standard used to connect an LCD module to the graphics processing board.
Chino, CA (PRWEB) May 02, 2016
Tianma NLT USA has introduced a new 15.6-inch Full HD (1920 x 1080 pixel) TFT LCD from NLT Technologies, Ltd. with Embedded DisplayPort (eDP) interface for industrial applications. Mass production is scheduled for June of this year. The company will also be introducing a family of modules equipped with eDP interfaces in sizes of 11.6-inch, 18.5-inch and 30.0-inch diagonal with Full HD resolution in 2016.
The new prototypes incorporate NLT's proprietary Super Fine TFT technology (SFT) for wide viewing angles and high color gamut that meet the display characteristics frequently required by the industrial equipment market. They also feature thin and lightweight design, enabling the displays to be used in a variety of embedded display applications such as in-flight entertainment, and high end portable medical equipment.
Embedded DisplayPort (eDP)
eDP is a high speed serial interface standard used to connect an LCD module to the graphics processing board. eDP enables connection of image source equipment (such as personal computers) directly to LCD modules, using a graphics processor that is compatible with the DisplayPort standard, resulting in a compact interface design. The smaller size of the driver board enables a more compact design for the connector due to the reduced number of signal lines. The eDP interface also enables higher transmission speed compared to the conventional LVDS interface. Furthermore, eDP is a suitable countermeasure to EMI in the interface cable since it does not require an external clock signal.
As industrial display applications become more compact and require smaller footprints and higher resolutions, it is predicted that the demand for eDP will increase as it enables more compact design and higher transmission speed. As major graphics processor manufacturers encourage adoption of the eDP instead of LVDS interface, acceleration of eDP usage in the market is likely to follow.
A prototype of new 15.6-inch LCD module will be showcased by Tianma NLT USA (TNU) at Display Week 2016 (booth 905), May 24-26, in San Francisco at the Moscone center.
Tianma NLT USA will be adding more LCDs with eDP interfaces to their product portfolio. A suite of eDP prototype displays – 11.6"*, 18.5"*, and 30.0"* – will also be demonstrated along with the 15.6" in TNU's booth at Display Week.
*Note: the 11.6", 18.5" and 30.0" eDP modules are planned for production in Q4 2016
For more information, contact Tianma NLT USA, Inc., 13949 Central Ave., Chino, CA 91710. 909-590-5833. info(at)tianma(dot)com; http://www.tianma.com
About Tianma NLT USA, Inc.
Tianma NLT USA has been established to be the leading provider of small to medium size display solutions to the Americas utilizing cutting edge technologies from Tianma Micro-electronics and NLT Technologies Ltd., coupled with the manufacturing resources of the Tianma Group. Applications include smartphones, tablet PCs, industrial and medical instrumentation, wearables, home automation, household appliances, office equipment, and automotive and rear seat entertainment devices, as well as test and measurement systems, instrumentation equipment, point-of-sale and ATM systems, gaming systems, global positioning systems, radio-frequency identification devices and barcode scanners.
Technologies include TFT, LTPS-TFT, Oxide-TFT, AM-OLED, flexible, transparent, 3D, PCAP and In-cell/On-cell integrated touch technology. With a network of best-in-class distributors and value-added partners, Tianma NLT USA provides complete display module solutions for a broad base of customers and applications. The range of display features offered includes ultra-high resolutions, wide temperature ranges, high contrast ratios, rich color gamut, backward compatibility, LED backlights, high bright and transflective viewing for use in diverse lighting environments.
The content in this press release, including, but not limited to, product prices and specifications, is based on the information as of the date indicated on the document, but may be subject to change without prior notice.