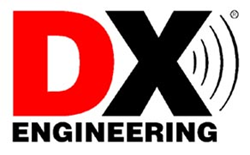 Tallmadge, OH (PRWEB) May 04, 2016
DX Engineering now carries EAntenna Yagi and dipole antennas. These HF and VHF antennas can be found at some of Europe's most competitive stations, and now operators in the United States can purchase them for their own installations.
EAntenna's antennas are so well respected, the VK0EK DXpedition team selected them to use on Heard Island. In what was one of the most significant DXpeditions of the year, the antennas performed well amidst the DXpedition's extremely intense RF environment.
The EAntenna 59+ multiband Yagi provides coverage on the 20, 17, 15, 12 and 10 meter bands with a boom just under 20 feet long. Its durable construction helps it survive winds close to 100 mph. The 59+ antenna's efficient design delivers close to 7 dBi gain on 20 meters and a whopping 9 dBi gain on 10 meters. Front-to-back ratios are greater than 22 dB on all bands.
EAntenna makes a versatile series of dipole antennas that offer an incredible blend of ruggedness and performance. They're optimized for low SWR in each band and the antennas' innovative element spreader system delivers incredibly low noise. The use of polycarbonate insulators contributes to excellent resistance to Mother Nature. They're easy to install and, in most cases, the antennas can be set up in about 30 minutes.
For operators looking for no-compromise "Magic Band" 6 meter coverage, EAntenna offers its 6MOX Yagi. It delivers over 6 dBi gain on 6M, with a front-to-back of 25 dB. Better still, the boom is only around 3 feet long, and the longest element is less the 7 feet long. The result is an ultra-compact 6 meter antenna that delivers excellent performance with a tiny footprint.
DX Engineering carries more EAntenna Yagi and Dipole antennas with many in stock and ready to ship today.
DX Engineering
http://www.DXEngineering.com
1-800-777-0703