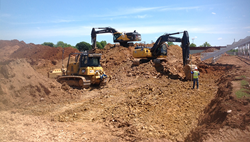 We're very excited about the upgrades to our facilities and our working partnership with Hellas. It's been an excellent relationship and it's been a great start.
AUSTIN, TX (PRWEB) May 02, 2016
Earlier this month, Hellas Construction broke ground at Jourdanton ISD, to begin a thorough upgrade to the football, track and field, baseball, softball, and tennis areas to have the Indians ready to start the 2017-2018 sports seasons with a bang.
Today, Hellas workers will be working on curb construction, trench drain installation, field lighting installation, and construction of home-team bleachers.
"We're very excited about the upgrades to our facilities and our working partnership with Hellas. It's been an excellent relationship and it's been a great start," said Darrell Andrus, Jourdanton ISD's Athletic Director.
Since 2006, Jourdanton ISD has continually turned to Hellas for the installation of epiQ Tracks® and TPS® Court Surfaces. Through years of trusted partnership and a track record of high-quality products and installation, Hellas now takes the reins on a complete Design/Build project involving new Matrix® Turf, epiQ Tracks, and TPS Court Surfaces.
Hellas offers a unique approach to the revamp of Jourdanton ISD's athletic facilities – bringing together all services required for the project from one source. Hellas Polymers, Hellas Fibers, and Hellas Textiles test and develop products for football, soccer, baseball, softball, track and field, and tennis. The Hellas Design Team has worked with Jourdanton to put together project renderings, specified to the unique requests and needs of athletes and spectators alike.
"We're very pleased with the communication process, and working through the intricacies of the design/build of¬ these facilities," said Andrus.
Matrix Turf with Helix technology and Geo Plus all-organic infill will be installed on the football field, surrounded by a brand new 8-lane epiQ Tracks V300 track surface. Two new double-sided long jumps, a shot put circle, a high jump, and pole vault area will also be constructed – rounding out the new track and field event areas for Jourdanton athletes.
In addition to new, optimum surfaces for football, soccer, and track and field athletes, the Design/Build project includes new visitor and home side bleachers, concessions building, parking area, and a lighting system.
The baseball and softball areas will also get a complete renovation – with new Matrix Baseball/Softball artificial turf with Helix technology and Geo Plus organic infill. The Indians' and visitors' dugouts, bullpens, batting cages, and bleachers will be newly constructed, and a new lighting system will be installed for optimal night game playability.
Eight new post-tension tennis courts will be constructed, and finished with Hellas' high-quality TPS® Court Surfaces 5000 Color Coating. The tennis, baseball, and softball area will also have a new, separate concession building with new parking facilities and bleachers.
"It's very gratifying to be able to provide the Pleasanton Community with a sport complex that their youth will enjoy for many years to come," said William Power, Hellas Project Manager.
By the end of January 2017, Jourdanton ISD will¬ be fully equipped with a completely new athletic facility for the enjoyment of spectators and enhanced playability for all athletes.
About Hellas Construction
Headquartered in Austin, TX, Hellas Construction, Inc. is one of the largest sports construction contractors in the United States. While specializing in the general construction of sports facilities and synthetic surfaces, Hellas also champions innovative artificial turf manufacturing, base construction, field, track and tennis planning, installation and maintenance. To learn more about Hellas Construction, visit hellasconstruction.com.
About Jourdanton ISD
A public school district located in Jourdanton, TX, comprised of five schools – Jourdanton High School, Jourdanton Junior High, Jourdanton Elementary, Atascosa County Alternative School, and District Reassignment and Opportunity center. As of 2013, the total enrollment was 1,472 students. To learn more about Jourdanton ISD, please visit http://www.jourdantonisd.net/.
****