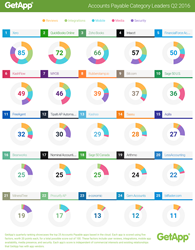 Xero secured its top spot in the rankings due to perfect 20 scores in both user reviews and integrations
Barcelona (PRWEB) May 03, 2016
GetApp's accounts payable ranking for Q2 2016 saw heavyweight Xero head off the competition to clinch the number one spot. QuickBooks Online took second place in the latest ranking from the business cloud app discovery platform, with Zoho Books just behind in third.
The ranking was set up with aim of helping small to mid-sized businesses have the necessary information when making a software choice for their company.
It uses five particular criteria to assess the apps in each category: integrations, media presence, availability and rating of iOS and Android mobile apps, security, and reviews from GetApp users. Each data point is marked out of 20, with a total potential high score of 100.
"Xero secured its top spot in the rankings due to perfect 20 scores in both user reviews and integrations. QuickBooks Online had the overall best score for its mobile apps, with a maximum of 20 points. Beanworks, in 16th place, came out top for security, while Sage 50 headed the social media presence category," says project manager for the ranking, Suzie Blaszkiewicz.
To access GetApp's full list of the top accounts payable apps, click here.
More about GetApp: GetApp, a Gartner company, is the leading premium business app discovery platform on the web. Headquartered in Barcelona (Spain), GetApp serves as a platform for user-generated and editorial reviews of software and apps for businesses.
###