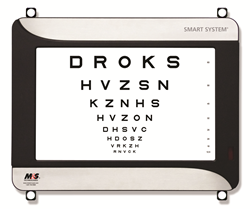 ...Eliminates technician bias, user error and provides raw data for analysis.
Niles, IL (PRWEB) May 03, 2016
M&S Technologies, the first name in computerized vision testing systems, has added a fully-automated ETDRS protocol to the new Clinical Trial Suite.
Automated ETDRS can quickly and accurately measure visual acuity while eliminating technician bias and erroneous results. The randomization of the letters (choose from 10 Sloan or 12 British Standard Institution letters) eliminates any possibility of memorization.
The background luminance is carefully calibrated to ANSI and ISO standards but can be adjusted based on each trial's specifications. Test results are consistent and repeatable and can be exported to any media file in any format for statistical analysis.
"We are very excited about our automated ETDRS program. A significant aspect of the system is that it eliminates technician bias, user error and provides raw data for analysis. Manual recording or mis-translation of data need no longer effect the integrity of the results." - Joe Marino, President & CEO
The Clinical Trial Suite will be available to demo at both the 2016 ARVO Meeting and the 2016 ASCRS/ASOA Meeting.
About M&S Technologies:
Founded in 1990, M&S Technologies is a software company specializing in visual testing systems and dedicated to developing the very best products for eye-care professionals, optometry schools and universities, and products used in clinical trials. To date, over 26,000 systems are in use across 39 countries with a growing network that includes 25 distributors and several strategic industry alliances. Superior service, industry-leading technology and products that define the cutting edge have been the hallmarks of M&S for over 25 years.
For more information, please contact:
Carolyn Crabb
Marketing Coordinator
M&S Technologies, Inc.
847-763-0500
ccrabb(at)mstech-eyes(dot)com
#####