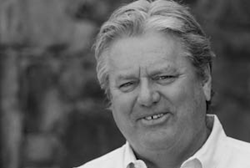 I was dissatisfied with the available VNR services, so at Ketchum I began producing and distributing them myself
Atlanta, Georgia (PRWEB) May 03, 2016
Launched by Kevin E. Foley 30 years ago this month in Chicago, KEF Media celebrates three decades of delivering outstanding broadcast and digital solutions to the public relations industry.
As an account manager for industry giants Burson-Marsteller New York and Los Angeles and Ketchum Chicago, Foley began employing video news releases (VNR) in the early 1980s for his clients.
"I was dissatisfied with the available VNR services, so at Ketchum I began producing and distributing them myself," Foley explained. "I realized there was no company in Chicago providing end-to-end VNR services from the perspective of PR agency professionals, so I started the company in a borrowed office with one employee."
By focusing on honest counsel and solid media results, within a year KEF Media had moved to its own offices with a staff of seven.
"I have had the good fortune of meeting and working with so many wonderful agency and corporate PR professionals over my 40-year career," said Foley. "There are far too many to name but I hope they all know I am deeply grateful for my past and present relationships with them."
In 1987, KEF Media began producing VNRs for The Coca-Cola Company through Cohn & Wolfe's Atlanta office. KEF Media's association continues with Cohn & Wolfe and Coca-Cola 29 years later.
In the late '80s, the company began providing corporate video presentations, radio news releases, radio media tours, and public service announcements to augment its VNR business.
In 1988, Foley used his experience at the 1984 Winter Olympic Games in Sarajevo to win assignments from Olympic sponsors Coca-Cola and FedEx during the 1988 Winter Games in Calgary, Canada.
KEF Media has since been the go-to resource for broadcast and digital publicity services at ten other Olympic host cities, most recently in Sochi, Russia. A KEF Media team will be in Rio de Janeiro this August.
In 1991, KEF Media produced its first satellite media tour and has been executing them for public relations professionals ever since.
In 1993, Foley moved to Atlanta while continuing to maintain KEF Media's Chicago operation. By 2000, all of KEF Media's operations had moved to Atlanta, where the company has grown and thrived.
"Our international experience has resulted in many foreign assignments," Foley said. "In 1987, we went to Russia when it was still the Soviet Union. We've produced satellite media tours, VNRs and B-roll, and corporate video presentations in Europe, Australia, Africa, Asia, and North and South America. We haven't been to Antarctica yet, but I'm sure that call is coming."
In 2012, Foley purchased a 10,000 sq. ft. office building in Smyrna, Georgia, just outside Atlanta where the company employs nearly 30 professionals, serving clients under the leadership of Yvonne Goforth-Hanak, Linda Buckley, Alex Hinojosa and Audrey Kelsey.
"There have been so many incredible highlights over the years," said Foley, "the Olympics, FIFA World Cup, the first blind climber to summit Mt. Everest, and the Postal Service's Celebrate the Century program, to name just a few. But the biggest honor and privilege is having such this talented and dedicated team working under my name."
KEF Media has experience in most all public relations practices including consumer, entertainment and lifestyle, healthcare, sports, technology, communications, automotive, restaurant, banking and finance, food and beverage, travel, pets, and special events.
Learn more at kefmedia.com.