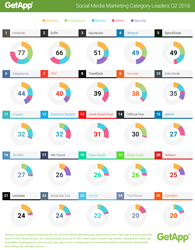 The battle for fourth through sixth place is a bit more intense, with Oktopost, SproutSocial, and Easypromos all within 5 points of one another. It'll be interesting to see what changes next quarter
Barcelona, Spain (PRWEB) May 03, 2016
GetApp's ranking for Q2 2016 of the top social media marketing solutions has been released: HootSuite came in first place, followed by Buffer and Agorapulse in second and third place, respectively.
The ranking is aimed at small and mid-sized business owners, and it provides an at-a-glance look at some of the most popular cloud-based social media marketing applications.
GetApp's ranking is comprised of five different data points to score an app. The data points are: integrations with other SaaS apps, mobile app availability and reviews, media presence, security, and user reviews on GetApp.
"HootSuite came in first place with perfect scores of 20 in SaaS integrations, mobile app availability, and media presence. Buffer came in second place, and also had a strong showing across most data points. The battle for fourth through sixth place is a bit more intense, with Oktopost, SproutSocial, and Easypromos all within 5 points of one another. It'll be interesting to see what changes next quarter," says researcher and project manager of the ranking, Suzie Blaszkiewicz.
Click through to see the entire Q2 2016 ranking of the top social media marketing solutions.
More about GetApp: GetApp, a Gartner company, is the leading premium business app discovery platform on the web. Headquartered in Barcelona (Spain), GetApp serves as a platform for user-generated and editorial reviews of software and apps for businesses.
###