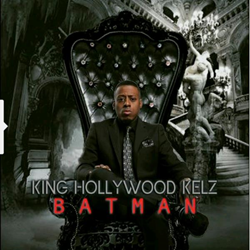 Norfolk, VA (PRWEB) May 02, 2016
Today Coast 2 Coast Mixtapes announce the release of the "King Hollywood Kelz - Batman " by . The Single is currently available for streaming and download at http://coast2coastmixtapes.com/mixtape/king-hollywood-kelz-batman
Young, rich, and famous, often called ostentatious, is how King Hollywood Kelz adapted the core of his name. Hollywood, envisioned along with the glitter and the glam are alcohol and drugs; however, Hip Hop artist King Hollywood Kelz has a more promising angle in his camera lens.
Way back when Mr. Hollywood was still in his mother's womb, she knew he was destined to be successful so she named him King, the most important piece on her chessboard. He watched his mother survive through the struggle in Norfolk, VA and it motivated him to strive for economic success. She taught him how to be self-sufficient, self-motivated, and self-made and uphold his divine name.
Since a young'n, going through the struggles of this world, he uses music as a therapeutic gateway. He says music is like "a friend he vents to," that has an open ear to his stories and feelings. With his father living in Philadelphia, he travelled back and forth from VA to PA, and at the age of nine, he started engaging in battle rap in Philly. His biggest hip-hop influences are Cassidy and Nas, which molded his own unique style to this day. He states he is very lyrical, but flexible enough to meet the demand of the younger crowd. It's part of the game, this kind of business mindset he claims he obtained from his father.
He is signed under his own label Royalty Throne Records. Gung ho about the future, he sees himself, musically, to finish three albums in three years, sign multiple artists, and make history by making a shift in the game. His energy as he speaks, you can tell he is a leader with a vision larger than the eyes can see. He is prepared for what is to come in the long run, no matter what situation arises.
Along with the music, 25-year-old King Hollywood Kelz has gotten into real estate. His culture, ways and actions, reflects in his music. His first single, Batman, has an upbeat wave, and it actually gives a taste of his journey to riches. His true message to the urban listeners is: "You don't have to sell drugs to be successful. You can be who you are, and still be cool," says King. It's safe to say, success comes in a variety of forms, not just how the media displays it.
We all know how the media exposes how the urban community gains success; in and through the streets. However, King Hollywood Kelz has a vision above and beyond what the cameras in Hollywood captures. Through his music and way of life, he wants to shoot for the minds of the young listeners, and embed a seed of the "Hollywood" that absolutely sets them up for success. A young, hip-hop visionary, King Hollywood Kelz remains the most vital piece on his chessboard.
King Hollywood Kelz is currently seeking press opportunities, interviews, features, and more. He can be reached at the following locations:
http://twitter.com/@Kinghollywoodke
To download or listen to the new project, King Hollywood Kelz - Batman , please visit the Coast 2 Coast Mixtapes site at http://coast2coastmixtapes.com/mixtape/king-hollywood-kelz-batman
About Coast 2 Coast Mixtapes: Coast 2 Coast Mixtapes are the most widely distributed mixtapes in the world, with over 100 million downloads/plays generated by over 300 volumes officially hosted by major artists. Coast 2 Coast has a solid reach in the new music industry with a digital magazine, DJ coalition, industry tips blog, yearly convention, and more. Coast 2 Coast Mixtapes represents a unique opportunity for artists of all urban genres, from major to indie. For more information, visit http://www.coast2coastmixtapes.com.