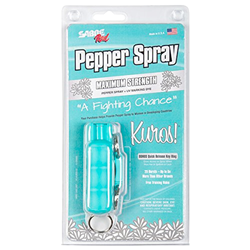 Featuring an eye-catching turquoise color, floral illustrations and the words pepper spray which can be read up to 25' (8M) away, the Kuros!™ packaging helps maximize product sales.
(PRWEB) May 05, 2016
SABRE's Kuros!™ Key Case Pepper Spray with Quick Release Key Ring recently received the Honorable Mention distinction in the 2016 Packaging and Merchandising Awards program, presented by North American Retail Hardware Association (NRHA). NRHA hosts the annual competition to inform independent retailers about trends and leading packaging, and to celebrate the independent home improvement industry's best merchandising and packaging.
Featuring an eye-catching turquoise color, floral illustrations and the words pepper spray which can be read up to 25' (8M) away, the Kuros!™ packaging helps maximize product sales. Proceeds from domestic sales help provide free SABRE pepper spray to women at high risk of sexual assault in developing nations.
"Our exciting new Kuros!™ model marks the beginning of a new pepper spray movement," said David Nance, SABRE CEO/V.P. of Sales & Marketing. "Domestic sales of this item are crucial to protecting women around the globe, so we knew it was important to get the packaging just right. We're very honored to have received this recognition from NRHA."
SABRE and nearly sixty other U.S. and Canadian manufacturers submitted packaging and merchandising/point-of-purchase display materials to the awards committee to compete for recognition as the best in the industry. To determine the winners, NRHA invited three expert judges to contribute their experience and knowledge to review and critique each entry thoroughly for the awards, which are now in their seventh year.
"Each year we look forward to recognizing the most impressive packaging and merchandising displays," says Hilary Welter, member services and communications coordinator at NRHA. "Packaging and merchandising play such an important role in the success of our industry, and we were thrilled to see so many remarkable entries this year."
The Packaging and Merchandising Awards presentation will take place at 2 p.m. May 4 in the NRHA Village at the National Hardware Show® in Las Vegas. All contest entries will also be on display at the Packaging and Merchandising Award Expo in the NRHA Village for the duration of the three-day Show.
ABOUT SABRE
SABRE, the no. 1 pepper spray trusted by police and consumers worldwide, is family owned and operated with four decades of experience and is the leading brand in personal safety. The company's law enforcement grade pepper sprays provide consumers with the same superior quality chosen exclusively by the New York Police Department, Los Angeles County Sheriff's Department and law enforcement agencies worldwide. SABRE has trained 3,500 officers around the globe on the use of force and how to use pepper spray. SABRE also has a line of consumer personal alarms and home security systems, and is dedicated to educating its customers. SABRE's Personal Safety Academy is available through certified instructors around the world to help teach personal safety skills to SABRE users. Learn more at http://www.sabrered.com, on Facebook at 'SABRE-Security Equipment Corporation', on Twitter @SabreRed or on Instagram @SabreSafety.
ABOUT THE NORTH AMERICAN RETAIL HARDWARE ASSOCIATION
Founded in 1900 by a group of retailers, the North American Retail Hardware Association is a not-for-profit trade association with a mission to help hardware stores, home centers and lumberyards, regardless of wholesale affiliation, become better and more profitable retailers. Governed by a board of independent hardware retailers, NRHA fulfills its mission by providing information, communication, training programs and networking opportunities for the industry it serves. Each month NRHA publishes Hardware Retailing magazine, which reaches more than 34,000 stores in the U.S. and Canada. NRHA also provides a wealth of online training and educational resources to thousands of retailers on http://www.nrha.org.