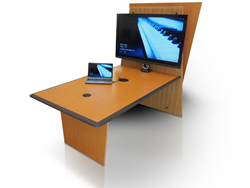 ADEX Awards for Design Excellence is the largest and most prestigious awards program for product & project design in the A&D industry
Baltimore, MD (PRWEB) May 03, 2016
The ADEX Awards for Design Excellence has chosen SMARTdesks Best of Year 2016, honoring with Platinum the Vista80 Collaboration Conference Table System; bestowing Silver to the Fit at Work Sit-Stand Office Table.
ADEX 2016 Platinum:
Vista80 Collaborative Conference Office Table
Helping the office think tank collaborate and communicate with intuitive one-touch video switching using color coded laptop connections.
Vista's tapered 80" table top is supported with a freestanding trapezoidal wall, 12" thick x 78" high. Technology forward, under the top is a 12" wide keel providing chase for wire management and housing the Huddle view HV-1000 HDMI video switching controller. The HV-1000 allows 1-4 users to plug in and power laptops or other input devices. The user pushes their own color coded button to display desktop information on a main display. the HuddleVu is bundled with Vista80; however, as with all SMARTdesks collaborative furniture products, the user's technology may be specified and the Vista80 can be customized with cutouts sized for the technology specified.
A Fusion LSM1U large display monitor support is supplied. It offers micro adjustable fixed wall support with centerless shift (17.4"), control zone leveling and click connect latching.
Numerous color combinations are available in laminate to provide coordination with the end user environment. 6 Outlet Power strip with surge suppression and on off.
Overall Footprint size is 105" long 60" wide with a rear monitor wall that is 12" deep and 78" high.
Options: rear wall stand up laptop support ledge with integrated 120V and USB power.
VST-1056078-LP- U (Urethane Edge Top)
VST-1056078-LP-P (PVC Edge TOP)
ADEX 2016 Silver: Cirrus Floating Counterbalance Sit-Stand Office Table
For health in the office and workplace, SMARTdesks Cirrus Table offers options for sitting, standing and exercising to improve productivity and mental effectiveness in the office setting. The Cirrus Floating Counterbalance Height Adjustable Office Table uses a unique, German-made leg design that equally distributes the weight on the table top over two legs. As a result, the table top can be raised and lowered by one person (able to physically lift the load on the table) using only a single release handle. The floating counterbalance is calibrated to provide a lifting force to make raising and lowering the table height as easy as power steering.
Table tops may be thermofoil with contoured edge, or laminate with polyurethane moulded edge that offers added comfort and the rich look of wood. The base offers continuous, stepless adjustment in a height range of 19.68", from a sitting position of 27.47" to standing at 47.15".
Healthy Exercise Equipment Options that work with Cirrus Sit-Stand Office Table:
FO-TR1200-DT3 Treadmill by LifeSpan®

Compact Footprint: 20" x 56" Walking Area
Drive Motor: 2.25 HP for up to six hours of daily use
Speed Range: 0.4 to 4 MPH
Max User Weight: 350 lbs
The built-in Intelli-Guard safety feature pauses the belt if you step off during your workout. When your foot no longer continuously strikes the belt surface for 20 seconds, your treadmill automatically pauses. The Intelli-Step feature counts and records the number of steps you take and displays them on the console.
FO-C3-DT3 Exercise Bike Desk by LifeSpan®
Comfortable, adjustable cushioned seat has 19-height adjustment settings to ensure a perfect fit and comfortable ride. These adjustments range from 36.5" up to 46.5" measuring from the top of the seat to the fully extended pedal. This supports most users from 5'0" to 6'8" tall. 16 resistance levels, maximum user weight: 400 lbs.
ADEX stands for Awards for Design Excellence and is the largest and most prestigious awards program for product & project design in the A&D industry. Designjournalmag.com is the international trade resource for interior designers, architects and facility managers since 1988 and the proud sponsor of the ADEX Awards.
ADEX judges, an anonymous panel, are among the A&D industry's most respected in their areas of expertise. The ADEX Award represents the best product and project designs of the year in the opinion of those who matter the most. Each category has potential for three award levels of platinum, gold or silver. Judges award points in several categories for each entry. Total points earned determine each product's score. Minimum scores are needed to qualify for each award level.
SMARTdesks designs and manufactures innovative, custom computer conference tables and computer classroom furniture. Each product is made to order, nuanced for the technology, purpose and interior design choices for the space. SMARTdesks is the patent holder for flipIT® products and is the sole source for flipIT and factory integrated flipIT furniture products. Serving universities, corporations, government and military clients world-wide, SMARTdesks furniture is made in the USA using Certified GREEN manufacturing methods. For more information, contact smartdesks through the web site— http://www.smartdesks.com