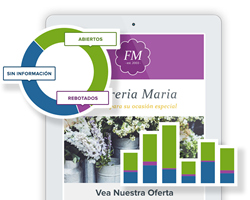 MORRISVILLE, N.C. (PRWEB) May 03, 2016
iContact today announced iContact en Español, a Spanish-language version of their email marketing service.
In addition to the email marketing platform itself being in Spanish, iContact en Español will also feature fully native language support for Spanish-speaking customers across all interactions including marketing, training, customer support, and sales - giving Spanish-speaking marketers the confidence and ease of working in their primary language.
"In addition to the strength of our email solutions themselves, iContact is well-known for our customer support and dedication to helping our clients move their marketing efforts forward," said Geoffrey Alexander, president of iContact. "This is about more than simply a translated product – Spanish-speaking customers will be able to directly engage with a knowledgeable support representative who speaks their language – via phone, chat or email providing the same award-winning support that is synonymous with the iContact brand."
The new product is designed to support Spanish-speaking marketers in the USA, as well as the emerging Latin America market. Spanish Latin America represents a major opportunity for email marketers, with about 440 million Internet users (56% internet penetration), a growing economy and an emerging middle class. Initial surveys conducted by iContact showed that customers in these countries immediately understood the value that iContact en Español could bring to their businesses.
"This is something we've been waiting for," said Dalia Shaooli of Shaooli, a Mexico-based distributor of toys and educational materials. "It will be easier for us to use the platform in our native language. This will differentiate us from other companies."
Spanish-speaking business owners in the USA, meanwhile, endure frustrations when working with services that offer English-speaking tools or support. The new Spanish-language service from iContact provides ease-of-use by allowing them to operate in their native language.
"By listening to our customers and staying abreast of market trends, we quickly realized the industry need for a Spanish-language email marketing product and experience," added Alexander. "Initial feedback on iContact en Español has been overwhelmingly positive, and we are proud to be introducing a solution that will enable these businesses to capitalize on the power of email marketing and accelerate their growth."
About iContact
Since 2003, small and medium businesses worldwide have achieved significant results by turning to iContact's best-in-class email marketing solutions and knowledgeable team members. Made scalable to serve the needs of high-volume senders, professional marketers, and businesses new to email, iContact's easy-to-use technology ensures that every customer has what they need – whenever they need it – to succeed. Located in Morrisville, N.C., iContact is an award-winning company in the Cision family of brands, receiving recognition from TopTenReviews, Salesforce AppExchange and G2 Crowd.
###