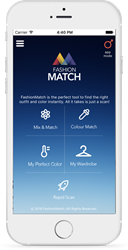 Our belief is that it's always possible to improve the way we look and feel, and through research, passion and hard work we aim to deliver the most innovative and "smartest" fashion app available to iPhone users today. —Paul Salsberg, President & CEO
(PRWEB) May 05, 2016
Releasing four major features - all in one app:
1.'FM Rapid Scan':
A feature that scans an item of clothing, and initiates a rapid scan sequence for additional items. Within seconds FM computes how well each color complements a primary item. An optional dynamic speech service pronounces the scanned color name and match result.
2.'Mix&Match'
Imagine a portable design room that can be carried anywhere. FM allows the creation of designs, mix and match of colors, and the saving of collections for later review. Designs can be shared with friends through email or social media, and organized as a personal collections that fit a chosen style, favorite trend, or a season of choice.
3.'MyWardrobe'
MyWardrobe allows the storage of an entire wardrobe in the palm of a hand! MyWardrobe makes it possible to scan and store any article of clothing, and informs the user what other items from a saved collection it compliments and matches.
4.'MyPerfectColor'
Skin tone, eye, and hair color can all be used to determine which colors make a person look great. MyPerfectColor initiates a quick and easy scan, and displays the perfect colors that match a personal look.
More features that include popular brands, designers, and access to personalized consultations from dedicated fashion advisers are coming with future releases.
For more information and to find out dedicated articles on visit FM blog: http://www.info.myfashionmatch.com
FM in the app store:
https://itunes.apple.com/us/app/fashionmatch/id967339400?ls=1&mt=8