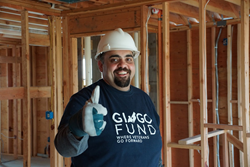 Newark, NJ (PRWEB) May 02, 2016
GI Go Fund, New Jersey's largest Veterans organization, along with over 20 teachers and faculty members from the Carl Sandburg Middle School in Old Bridge, NJ, took time on a Saturday morning to work together and build a home for a veteran in Newark, NJ with Habitat for Humanity.
This home is the second to be built by Habitat for Humanity and GI Go Fund for a veteran in Newark, with the first home being completed in 2015. The veteran home is one of several being built at Habitat's Harmony Point Complex, which will feature 23 new homes for families in need in Newark's South Ward.
Volunteers included teachers and faculty from Carl Sandburg Middle School, who for over three years have raised over $50,000 with the students at their school to benefit GI Go Fund and the veterans they serve during their "Steps for Vets" Fundraising Drive. Carl Sandburg will also have its students construct a wall for one of these homes at the school later in the year.
"The students and staff of Carl Sandburg Middle School are committed to supporting our returning veterans and to assisting GI Go Fund in their efforts," said Carl Sandburg Middle School Principal Dr. Martha Simon. "As a State School of Character we feel compelled to set the example for our students, demonstrating what it means to truly serve your community. On Saturday we came together to donate our time to Habitat for Humanity and in return we will share this experience with our students so they see how their support of GI Go is directly helping a veteran."
Other organizations will be working with GI Go Fund to participate help build these homes later in the year, including AXA Equitable and Greater Media NJ.
Jack Fanous, Executive Director of GI Go Fund, expressed his appreciation to both Habitat and Carl Sandburg for their involvement in the project.
"Today was a great day to show our veterans how much we want to help," said Fanous. "I could not be more proud of Dr. Simon, Gary Sapir, and the entire Carl Sandburg Middle School for coming out today and building these homes, providing a great example to their students of how to show their appreciation for our veterans. I am also grateful to be partnered with Jeff Farrell and Habitat for Humanity NJ, giving us the opportunity to volunteer for our veterans in such a meaningful way. I cannot wait for our other partners to volunteer at this house and help give some local veterans the opportunity to live in a new home - one built by their fellow, caring neighbors."
About GI Go Fund
GI Go Fund is a 501(c)(3) nonprofit charitable organization that provides assistance to all military veterans, with a focus on veterans from Iraq and Afghanistan, by helping them find employment, access housing, and secure their educational and health benefits. GI Go Fund is celebrating its 10-year anniversary in 2016, helping thousands of veterans and their families with all of their needs since its founding in 2006. Learn more at http://www.gigofund.org