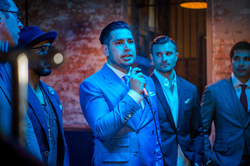 We will always be a custom menswear company at the core, but we didn't start AP to only be that. We are working to become a legitimate fashion house
Dallas, TX (PRWEB) May 03, 2016
On March 24, 2016, friends, family, clients and friends of Dallas-based menswear company, André Phillipe, filed into hip Deep Ellum speakeasy, High & Tight, to celebrate the company's third anniversary and hear the announcements they were set to make that evening. In what CEO, André Phillipe van den Broeck, described as a "strategically intimate and short" gathering, he and his team enjoyed drinks with the crowd and told them about the new happenings in their business.
van den Broeck said, "Three years is a great accomplishment for any startup-particularly when you are an unfunded one. So, we wanted to have an intimate event to celebrate the fact that not only are we still in business, but we are expanding and business is thriving. Our heart for the business remains the same, but we are evolving."
And expanding, they are. Executive Vice President, Jason Smith, said, "We recently began conducting business in Miami and will soon be doing the same in Las Vegas. When we first began the company, we didn't really have interest in the larger markets, but the opportunities continue to find us and we are taking advantage of them."
Not only is the company hiring around the country to serve additional markets, but , for the first time, they are making their menswear products available online in the very near future. According to van den Broeck, clients will soon be able to purchase suits, shirts, bags, shoes, accessories and more online. It's a move that van den Broeck says is long overdue, but indicative of their direction.
"We will always be a custom menswear company at the core, but we didn't start AP to only be that. We are working to become a legitimate fashion house and in order to do that, we have to offer ready to wear products along with our custom offerings. So, we are currently designing our first ready to wear collections and we will be making those available online and to retailers in the upcoming months," van den Broeck said.
And the membership program? Smith says it is currently only $99/mo and comes with a long list of benefits including first access to new AP products, access to products made for members only, access to special offers from their strategic partners, a dedicated phone concierge team and travel access to hundreds of private golf courses and dinner and business clubs across the country.