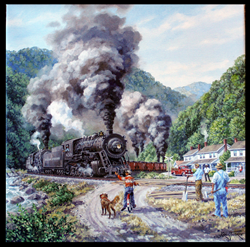 "We live in a society that was made by the railroads in ways we never think about anymore (including) the beat of our music." Tom Zoellner, author, Train: Riding the Rails that Created the Modern World
Elkins, West Virginia (PRWEB) May 03, 2016
Music Lovers, Folklorists, Rail Fans - Take Note. Railroading has its own culture, long shared through folklore and expressed in song. The 2016 Sounds of Railroading Conference and Concert, a Center for Railway Tourism program hosted by Davis & Elkins College, will capture and share that heritage as reflected in traditional music inspired by trains and railroaders. The conference, June 3 through 5, is on campus, in Elkins and on the train. The concert takes place the evening of June 4.
"Railroads have made a significant contribution to the national culture," says Center director James D. Porterfield. "This event brings together four national authorities, who share their knowledge of the musical interpretation of this important industry, and eight noted musicians to accompany the presentations with railroad songs and some dazzling sound effects."
Porterfield says the program was inspired by traditional musicians attending the Augusta Heritage Center summer program at Davis & Elkins. "I lost count of the number of musicians who passed my office door, saw all the train memorabilia and popped in to suggest such an event."
His chance encounter with folklorist and musician Gerry Milnes, himself interested in railroad music, led to the creation of the program.
"Over the years Gerry tracked down and recorded many Appalachian musicians who have specialized in railroad-themed music," Porterfield notes. "These field productions have been selected by the American Folklife Center at the Library of Congress for their 'Selected List of American Folk Music Recordings.'"
The event gathers authors, musicians, folklorists and filmmakers whose workshops explore the origins of traditional railroad music. Special attention will be paid to railroad labor, notably John Henry, to hobos, train wrecks and robberies, and to African-American section gangs. Presentations include participating musicians to illustrate points made by the presenters. Other highlights include the concert, dinner on board the Durbin & Greenbrier Valley Railroad's Mountain Explorer Dinner Train, a showing of the movie "Emperor of the North," and an authentic dining car dinner in historic Graceland mansion.
Saturday's workshops include "Traditional Music as a Railroad Music Genre," from Norm Cohen, author of "Long Steel Rail;" "Appalachian Railroad Music – The Traditions," with Gerry Milnes, folklorist, musician and author, accompanied by musicians William Sherman Holestine, Gary Wayne Jordan and Jimmy Costa; "John Henry and The Labor Tradition," Costa and Milnes; and "Hobo Music," Cohen and musicians Roy Harper and Johnny Bellar. On Sunday, June 5, host Jim Porterfield introduces folklorist and filmmaker Maggie Holtzberg's documentary, "Gandy Dancers," about African-American lining bar crew chants, with Holtzberg fielding questions. The program concludes with a jam session open to guests as well as presenting musicians.
More information and a link to register for the Sounds of Railroading Conference on line is available at http://www.dewv.edu/sor. Register by mail by simply printing the online form and mailing it, along with the fee or credit card information, to: James D. Porterfield, Director; Center for Railway Tourism, Davis & Elkins College; 100 Campus Drive, Elkins, WV 26241. For additional information, call Porterfield at 681/298-1959. Registration fees will be discounted through May 14.
The Sounds of Railroading Concert is set for 7-10 p.m. Saturday (June 4) at the Randolph County Community Arts Center, just blocks from the D&E campus. The show features a headline performance by Emily Miller and Jesse Milnes, along with guests Roy Harper and Johnny Bellar, Jimmy Costa, and William Sherman Holestine and Gary Wayne Jordan. Tickets to the concert, which is included for confernce attendees, can be purchased separately from the conference by others at http://www.dewv.edu/event/sor.
Updates and interesting sidelights are available on Facebook at https://www.facebook.com/CRTSOR.
Porterfield is the author of six books, including "Dining by Rail: The History and the Recipes from America's Golden Age of Railroad Cuisine," and edited and introduced "Set Up Running," Jack Orr's acclaimed biography of O.P. Orr, a Pennsylvania Railroad engineman from 1904 to 1949, and the reprint of Harry Bedwell's classic railroad novel, "The Boomer: A Story of the Rails." He launched the Center for Railway Tourism at Davis & Elkins in 2012.
Porterfield is also a columnist, feature writer and contributing editor for Railfan & Railroad magazine; the creator and host of "Journeys for a Railroad Tourist," a blog from the National Trust for Historic Preservation's Heritage Travel division; and a frequent speaker at fundraising events for railway heritage sites. A graduate of Edinboro State College (now Edinboro University of Pennsylvania), Porterfield was a marketing instructor at Pennsylvania State University's main campus for 22 years.

NOTE: Jim Porterfield and Gerry Milnes are available for interviews. Call Porterfield at 681-298-1959. Performer, speaker and settings photos are available.