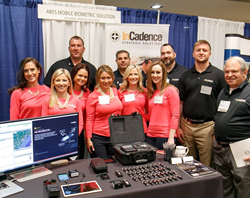 Manassas, VA (PRWEB) May 03, 2016
InCadence Strategic Solutions is pleased to announce that its mobile biometric solution; Ares™ has won the "Transformer of the Year" award at the 2016 ACT/IAC Igniting Innovation Showcase and Awards, held on April 25th at the Renaissance hotel in Washington D.C.
The Transformer category recognizes an innovative program which uses existing technology to transform or extend capabilities resulting in new or broadened applicability and use. InCadence CEO Sandy Corbett stated, "It is an honor for InCadence to be recognized for the "Transformer of the Year" award. We are flattered by the recognition and wish to extend our gratitude to the judges, voters, and attendees. Our development team continues to work tirelessly on Ares because they believe in the mission, which is a core tenet of our corporate culture. To see our team publically recognized by government and industry peers is a great validation of the high quality of their work. The entire InCadence team is thrilled and we would also like to congratulate all the nominees on their success."
About Ares™:
Ares is a micro-kit biometric collection and submission platform which has been designed to be capable of rapidly collecting biometrics, photographs, biographical data, packing and validating transactions and communicating with identity databases from Android-based tablets and smartphones. Ares securely sends biometric submissions and receives identity responses including rap sheets and warrant information from multiple agencies directly to an agent or officer's mobile device. A true breakthrough solution for law enforcement and security professionals, Ares permits on-scene validation and processing in a way that was previously unavailable or costly to perform. With Ares, if you have a signal, you have positive identification. For more information on Ares, visit https://incadencecorp.com/ares/ .
About ACT-IAC:
The American Council for Technology (ACT) - Industry Advisory Council (IAC) is a non-profit, public-private partnership dedicated to improving government through the application of information technology. ACT-IAC provides an objective, ethical and trusted forum where government and industry exchange information and collaborate on technology issues in the public sector. A complete list of sponsors, as well as additional information about ACT-IAC, can be found on ACT-IAC's website. Learn more about the organization and how to become a member at http://www.actiac.org or call (703) 208-4800. Connect with ACT-IAC on Facebook, Twitter and LinkedIn.
To learn more about InCadence capabilities, technology solutions and career opportunities, visit our website at http://www.incadencecorp.com. Add us on LinkedIn, Facebook and Twitter to follow our news and updates.