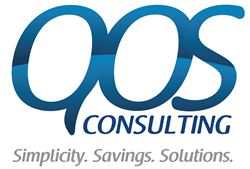 "As a VeloCloud Partner, QOS is able to enhance its customers' efficiency, performance and productivity while lowering overall networking costs."
El Segundo, CA (PRWEB) May 04, 2016
QOS Consulting LLC (QOS), a communications technology solutions company headquartered in Southern California, today announced a partnership with VeloCloud™ Networks, Inc., the Cloud-Delivered SD-WAN™ company, that adds software-defined wide area networking (SD-WAN) capabilities to QOS's portfolio of enterprise services.
VeloCloud Cloud-Delivered SD-WAN enables enterprises to simplify remote and branch office deployments while delivering secure optimized access to applications in cloud and private datacenters. Enterprises benefit from the multi-tenant cloud gateway architecture and ability to support real-time applications over ordinary broadband links.
"VeloCloud gives our customers the ability to manage their WAN by application priority. With this technology, we are able to empower our customers to route their data based on business need - driving value while increasing redundancy in a more cost effective way than traditional networks," said Frank Cittadino, managing partner of QOS.
"VeloCloud Cloud-Delivered SD-WAN solves the cloud and private data center application performance challenges faced by enterprise branch offices, simplifies branch deployments and enables network-wide visibility, control and analytics," said Michael Wood, VeloCloud VP of Marketing. "As a VeloCloud Registered Partner, QOS is able to enhance its customers' efficiency, performance and productivity while lowering overall networking costs."
"SD-WAN is a natural extension of our enterprise portfolio. Coupled with our expertise in complex services implementation, project management and our customer portal, we are proficient at meeting the needs of multi-site organizations. We look forward to sharing our knowledge in enabling application performance across the network and the benefits that come with that," said Cittadino.
About QOS Consulting: For more than a decade, QOS Consulting has been helping organizations improve the performance of their applications and people by improving the performance of their networks. With technology and project management expertise, the team works with enterprise businesses to advise and manage implementation and migrations of complex services. For more information, visit qos-consulting.com.