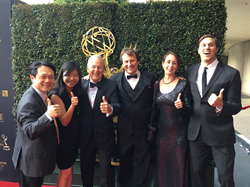 (PRWEB) May 02, 2016
With two special episodes debuted last fall, a joint production of the "Iron Pathways to Adventure" by the Tourism Bureau of the Republic of China and Joseph Rosendo's "Travelscope", the well-known travel series on Public Broadcasting Service (PBS), received nominations for the Daytime Creative Arts Emmy Awards for Outstanding Cinematography and Outstanding Sound Editing. This is yet another recognition of Taiwan's beauty at an international competition since the winning of the 2014 Emmy Awards for the "Taiwan Lantern Festival".
In the "Iron Pathways to Adventure,"Daytime Emmy Awards winner Joseph Rosendo discovers cultural treasures along the ride of the Taiwan railway. With his humorous and knowledgeable hosting style, he guides his audiences through Taiwan's railway system to embark on a joyful journey and explore the natural and cultural landscapes along the tracks. In a friendly yet thorough fashion, Rosendo introduces Taiwan's round-the- island railway system, types of railways, Taiwan's High Speed Rail, the extension of Alishan Forest Railway with its surrounding attractions, delicious cuisines and cultural events, Ten Drum Culture Village, Kaohsiung MRT, Ciaotou Sugar Refinery, gourmet ice-cream in Shaochuantou, Cijin seafood, Hakka Lei Cha and more, showing viewers the importance of the Taiwan Railway development to Taiwan's economic growth.
According to Mr. Brad Shih, the Director of Taiwan Tourism Bureau in Los Angeles, tourism and transportation construction in Taiwan are indispensably connected to each other. With the advanced internet technology and mobile communication nowadays, travelers are gradually switching from joining traditional group tours to self-customized trips. Therefore, a well-developed transportation system has become a crucial pull factor that draws international travelers to Taiwan. The Bureau has recently launched the "Best of Taste Taiwan:10 Things You Must Do" that promotes Taiwan culinary tourism, and one of them includes utilizing the extensive transportation system to conveniently tour around the entire island. Taiwan's all-encompassing transportation system has now been extended from the main island to one of the world's ten best secret islands, Penghu. In June of this year, Rosendo will lead the production team there for a new show which is scheduled to air on PBS for Season 9 of Joseph Rosendo's "Travelscope."
Links to the "Iron Pathways to Adventure" trailers on Travelscope's official website:
Episode 1: http://travelscope.net/episodes/view/taiwan_-_iron_pathways_to_adventure_1
Episode 2: http://travelscope.net/episodes/view/taiwan_-_iron_pathways_to_adventure_-_part_2