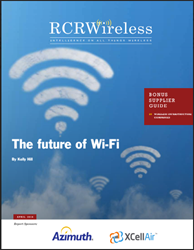 Wi-Fi has been an incredibly successful technology, but in some ways – such as congestion at 2.4 GHz – it is seeing some consequences of its own success. - Kelly Hill, report author
Austin, Texas (PRWEB) May 03, 2016
RCR Wireless News spoke with experts across the Wi-Fi ecosystem for their views on the future of Wi-Fi, including Wi-Fi Alliance, iPass, Aerohive, Cisco, Boingo Wireless, Ruckus Wireless and Wi-Fi Now, to get a thorough update on the state of Wi-Fi and its evolution.
The report, entitled "The Future of Wi-Fi", contains insight into the latest standards work and deployments of carrier-grade Wi-Fi; the ongoing evolution of Wi-Fi services in the home; and monetizing Wi-Fi based on better leveraging visibility and analytics as well as for service provider churn reduction. It also explores the convergence of Wi-Fi and LTE cellular systems, including the controversy around the use of LTE in unlicensed spectrum and industry concerns over LTE/Wi-Fi coexistence.
Download this report to learn:

The state of the Wi-Fi market and overarching trends
Status of 802.11ac certification and new technologies such as WiGig
The latest update on coexistence work for Wi-Fi and LTE-U
How longtime players and start-ups are addressing the quality of Wi-Fi in the home
A shift within the Wi-Fi industry toward software, analytics and services
Bonus: Supplier guide for wireless infrastructure companies
Watch the complimentary editorial webinar featuring:

Kelly Hill, Editor, RCR Wireless News
Kevin Robinson, VP of Marketing, Wi-Fi Alliance
William Butte, CTO and founder, Wildfire 5G
Patrick Welsh, Executive Director of Public Policy and Law, Verizon
Todd Mersch, Co-Founder and EVP Sales and Marketing, XCellAir
Dean Brenner, SVP Government Affairs, Qualcomm
"Wi-Fi has been an incredibly successful technology, but in some ways – such as congestion at 2.4 GHz – it is seeing some consequences of its own success," said Kelly Hill, editor at RCR Wireless News. "Now you're seeing more focus on the user experience and more efficient use of existing unlicensed spectrum to provide better Wi-Fi, particularly in the home. Wi-Fi is also moving into new territory for ultra-high-speed and 'Internet of Things' applications, as well as a general shift toward more convergence with LTE. Meanwhile, advanced analytics capabilities are providing more insights and opportunities to monetize Wi-Fi as part of business and carrier networks."
Click here to download this free editorial report.
About RCR Wireless News
Since 1982, RCR Wireless News has been providing wireless and mobile industry news, insights, and analysis to industry and enterprise professionals, decision makers, policy makers, analysts and investors. Our mission is to connect, globally and locally, mobile technology professionals and companies online, in person, and now on video. Our dedication to editorial excellence coupled with one of the industry's most comprehensive industry databases and digital networks leads readers and advertisers to consistently choose RCR Wireless News over other industry publications. http://www.rcrwireless.com