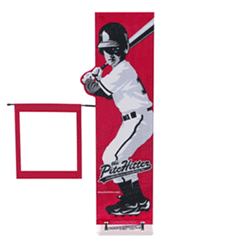 "I've been coaching kids for years and The Pitchitter is by far the best pitching tool on the market," says Bryan Opdyke, Former Milwaukee Brewer.
North Hollywood, California (PRWEB) May 04, 2016
When the game is on the line, it all comes down to what happened in practice. Teaching kids how to throw strikes is one of the greatest challenges in youth baseball. The Pitchitter allows pitchers, catchers and hitters to practice like a real game. With its unique patented design, pitchers and catchers get accustomed to having a batter in the batter's box. Using the Pitchitter's simulated reversible batter allows the pitcher to practice throwing to a righty or lefty batter. Pitchers will improve accuracy and build confidence using the simulated batter with an optional strike zone attachment. As an added benefit, The Pitchitter converts to a batting tee for hitting practice--making it a multipurpose baseball training aid for developing youth baseball skills.
The uniquely designed and patented Pitchitter is the only youth baseball training tool that simulates real game action of the batter in the batter's box. The Pitchitter will be featured at the upcoming National Sporting Goods Association conference in their Innovations Arena on May 22-24, 2016 and at the American Baseball Coaches Association conference in January, 2017.
The Pitchitter launched this Spring, 2016 just in time for youth baseball season. The state-of-the-art Pitchitter is easy to set up, made of heavy duty durable materials and designed to be portable for use in the batter's box, bullpen, backyard, or park. The Pitchitter is only available online at the introductory price of $149.99 including shipping and handling.