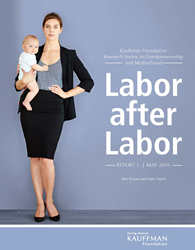 Kansas City, Mo. (PRWEB) May 03, 2016
With Mother's Day approaching, families nationwide are looking for ways to celebrate moms. A new paper by the Ewing Marion Kauffman Foundation out today urges policymakers, employers and entrepreneur support organizations to honor moms in the workforce and starting businesses by adapting policies that reduce the "double whammy" of challenges these moms face.
"Pay inequity, lack of flexibility for family needs and a 'second shift' of household duties adds to the challenges of being a woman in the workplace," said Alex Krause, research analyst at the Kauffman Foundation and coauthor of the paper, 'Labor after Labor.' "Yet, while entrepreneurship offers opportunities, mothers who start companies face other barriers, such as cognitive biases."
Policy change is necessary to allow women to continue their contributions to the U.S. economy, both as employees and as mothers, asserts Emily Fetsch, research assistant at the Kauffman Foundation and coauthor of the paper: "Women make essential contributions as employees, entrepreneurs and parents. They need more support, not more obstacles."
'Labor after Labor' is the first in a new Kauffman Foundation series of reports on entrepreneurship and motherhood. Read the full report, including a list of policy recommendations, here.
About the Kauffman Foundation
The Ewing Marion Kauffman Foundation is a private, nonpartisan foundation that aims to foster economic independence by advancing educational achievement and entrepreneurial success. Founded by late entrepreneur and philanthropist Ewing Marion Kauffman, the Foundation is based in Kansas City, Mo., and has approximately $2 billion in assets. For more information, visit http://www.kauffman.org, and follow the Foundation on http://www.twitter.com/kauffmanfdn and http://www.facebook.com/kauffmanfdn.