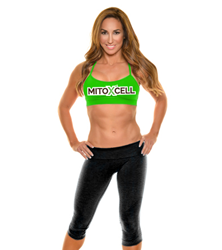 Carlsbad, CA (PRWEB) May 04, 2016
Natalie Jill is a well respected lifestyle mentor and fitness professional who has recently partnered with local company MitoXcell in preparation of the launch of her new book:Natalie Jill's 7 Day Jump Start: Unprocess Your Diet. The 7 day jump start plan is a nutritional guide designed to jump start a new healthy lifestyle featuring simple recipes using MitoXcell's raw cacao formula.
MitoXcell raw cacao is a unique powder containing raw cacao, echinacea, alpha lipoic acid, l-carnitine and trans resveratrol. MitoXcell's five ingredient formula is used as supplement that is clinically proven to aid in recovery, endurance, strength building and natural energy production.
The product is:

Natural
Vegan
Raw
Organic
Unprocessed
Gluten-free
Dairy-free
Non GMO
MitoXcell's raw cacao pairs with Natalie's new book and fitness programs giving readers a simple way to stay active and fit while maintaining a well balanced and non processed diet.The book contains 77 simple recipes and 7 healthy desserts designed for those looking to eat lean and lose weight. Removing processed foods form the diet allows the body to burn fat directly and improves metabolic function.
The book differs from other nutritional books as:
-The recipes are naturally gluten-free and all use real food
-Each meal has foods combined to maximize fat loss
-Meals are simple to prepare and the program is easy to follow
As well as nutritional advice, the book contains 7 body weight workouts that can be performed anywhere in just 7 minutes each, and the book will help readers develop positive habits that last a lifetime. The hardback book, which contains 300 full color pages, can be pre-ordered on Amazon or Barnes & Noble ahead of its release on May 3, 2016. Those that pre-order the hardcover book can receive a special bonus package valued at $99. As a licensed Sports Nutritionist and Functional Fitness Trainer, Natalie specializes in weight loss and body weight training. Those that follow the guidelines in her new book can expect to lose up to 5-7lbs within the first week.
Natalie Jill has been named one of the most influential people in health and fitness.  As #26 on Greatist Top 100 list she has first-hand experience in achieving weight loss through switching to an unprocessed diet and working out and now specializes in weight loss and core training. MitoXcell's formula has been clinically proven to work on the cellular level, aiding in weight loss, improving natural energy levels and building healthy muscle and cardiovascular tissues. The two forces combine to assist those trying to lose weight, maintain active lifestyles and obtain organic daily nutrition.
Natalie Jill book signing dates are as follows:
Los Angeles- May 10
Washington DC- May 14
San Diego- May 25