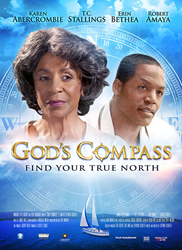 "'God's Compass' portrays a kind of faith that seems out of reach to most of us and yet affirms its potential for all of us. Bold and brave in its story and its style, this is a film to applaud," said writer/director Randall Wallace ("Braveheart").
Lynchburg, Va. (PRWEB) May 02, 2016
"God's Compass," the third feature-length motion picture produced in cooperation with the Liberty University Cinematic Arts, Zaki Gordon Center, was awarded Best Screenplay at the International Christian Film Festival (ICFF) on Saturday, April 30. "God's Compass" releases on DVD on Tuesday, May 3, in time for Mother's Day. It is being sold at Wal-Mart, Lifeway Christian Stores, Family Christian Stores, and other retailers.
The film also received 2016 ICFF nominations for Best Picture, Best Actress, and Best Actor.
"Being nominated as a film at the highest level of the faith market and then to win the award in screenwriting, validates the incredible educational opportunity our students engage in as they go to the Cinematic Arts program at Liberty University," said Stephan Schultze, executive director of Liberty Cinematic Arts department and writer/director of "God's Compass." "We strive for excellence at the highest level of achievement. Our students gain a real-world experience in this process that gives them the tools necessary to step out and engage a global community in the entertainment industry."
The film has already been featured on TV One, where it debuted Easter Weekend and will air again Mother's Day Weekend. TV One has a viewership of over 60 million households.
On May 5, "God's Compass" will open premiere night at the Bentonville Film Festival (BFF) in Arkansas. The festival, co-founded and hosted by Academy Award-winning actress Geena Davis, is a mainstream festival focused on women and diversity in filmmaking.
The movie was made through the support of Working Title Agency (which funded and distributed the film).
"The importance of Working Title Agency's financial support holds value well beyond the investment in making a movie," said Schultze. "Liberty's cinematic arts program is a leader in cinematic education by creating hands-on, real-life experiences for students. The making of the movie created a lasting return in the lives of our students before it was even released."
"God's Compass" features familiar faces from recent faith-based and family films, including "War Room" stars Karen Abercrombie and T.C. Stallings (whose "God's Compass" performances received ICFF nominations for Best Actress and Best Actor, respectively); Erin Bethea from "Fireproof;" and Robert Amaya of "Courageous" and "Mom's Night Out." The movie tells the story of a recently retired high school principal (Abercrombie) who takes in a delinquent boy and discovers a miraculous connection that brings her and her son's family through healing and a renewed faith journey.
"God's Compass" has received the Dove Family-Approved Seal and was endorsed by the American Family Association (AFA). The film has also received endorsements from accomplished Hollywood talents.
"'God's Compass' portrays a kind of faith that seems out of reach to most of us and yet affirms its potential for all of us. Bold and brave in its story and its style, this is a film to applaud," said writer/director Randall Wallace, ("Braveheart," "Heaven is for Real").
Screenwriter Dan Gordon ("The Hurricane," "Wyatt Earp," "Highway to Heaven") said: "It is a powerful, uplifting, heartfelt Christian film, meeting the highest Hollywood professional standards. No other film school in the world, Christian or secular, makes its own feature films. Liberty University has become the UCLA, USC, NYU, and Columbia University, combined, of Christian filmmaking."
Schultze said the reception of "God's Compass" demonstrates that Liberty's cinema department — now in its fifth year — is achieving its mission to train successful, influential filmmakers.
"No other film school in the country makes fully funded movies with its students," he said. "Liberty University's cinema department is giving its students a tremendous gift."
During production, each student works in two different areas, rotating positions halfway through filming. Not only do students gain valuable experience, but they also earn two Internet Movie Database (IMDB) credits for their résumés.
Through their work on films like "God's Compass," Liberty students garner opportunities to work on the sets of other prominent films, including standout faith films of 2015 like "War Room" and "Woodlawn."
For more information, visit GodsCompassTheMovie.com or connect with the film on Facebook or Twitter.
About Liberty University
Liberty University, founded in 1971, is the largest private, nonprofit university in the nation, the largest university in Virginia, and the largest Christian university in the world. Located near the Blue Ridge Mountains on more than 7,000 acres in Lynchburg, Va., Liberty offers more than 500 unique programs of study from the certificate to the doctoral level. More than 200 programs are offered online. Liberty's mission is to train Champions for Christ with the values, knowledge, and skills essential for impacting tomorrow's world.