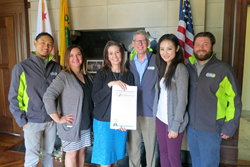 Oakland has emerged as a destination of choice for millennial travelers and conference planners.
Oakland, CA (PRWEB) May 03, 2016
Visit Oakland, the city's destination marketing organization, celebrates National Travel & Tourism Week from May 1– 7, 2016, a week long celebration encouraging cities, states, and travel businesses nationwide to champion the power of travel.
On Monday, May 2, Oakland Mayor Libby Schaaf welcomed members of Visit Oakland to City Hall and officially proclaimed the week "National Travel & Tourism Week" in the City of Oakland.
"Oakland has emerged as a destination of choice for millennial travelers and conference planners. The $1.6 billion dollars in visitor spending in Oakland provides a significant economic impact for both residents and businesses in Oakland. And it's a job creator, with over 94,000 tourism-related jobs in the region" says Mark Everton, Interim CEO & President of Visit Oakland.
Across Oakland, tourism employs a prosperous and diverse workforce, from airline and hotel employees, to restaurant, attraction and retail workers, and supports related sectors such as construction, manufacturing and finance.

In 2015, Oakland hotels provided 3,000 jobs, generating $207 million total hotel revenue and yielding $22 million in TOT (Total Occupancy Tax) for the City of Oakland.
Visitors to Oakland spent $1.6 billion in Oakland, generating 94,000 tourism-related jobs.
Compared to last year, Oakland's tourism numbers are steady and show a continued interest in Oakland as a destination.
Traveler spend directly generated $141.5 billion for federal, state, and local governments. These funds support essential national and community services and programs. Travel is a pillar of economic growth and creates jobs at a faster rate than any other sector.
National Travel and Tourism Week, sponsored by U.S. Travel, is celebrated by cities nationwide with dedicated events and rallies. Travel and tourism is one of America's largest industries, generating $2.1 trillion in economic output and supporting 15.1 million jobs nationwide.
###
ABOUT VISIT OAKLAND
Visit Oakland is a non-profit organization marketing Oakland, California as a travel destination. Visit Oakland offers a wide variety of complimentary services and materials for travelers interested in visiting Oakland. For more information, see our website at http://www.visitoakland.org.