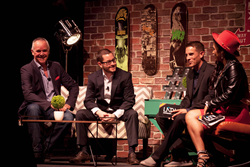 We are creating unique U.S produced content that will talk directly to the Millennials, as they seek a voice that they can recognize and trust. The voice is here and it's called LATV
New York, NY (PRWEB) May 04, 2016
LATV, the original national bi-cultural television network, hosted its Upfront presentation on April 26th at the historic Highline Ballroom in Chelsea. LATV is known for taking an alternative approach to its programming and this was reflected in the upfront presentation by bringing to life a "live talk show" format replicating the new network's signature program, The Zoo. LATV announced their new and exciting programming lineup, new partnerships and additional extensions to their media platforms and offerings. The #WildTalk show was hosted by network talents Humberto Guida, Nelly Castillo and Bruno Seros-Ulloa (co-hosts of The Zoo). The announcements were made by special guests: LATV's executives Andres Rincon, Vice President of Network Sales & Integrated Marketing; Luca Bentivoglio, COO & Head of Programming; Gisella Fu-Ripp, Director of Sales; and Jim Lyke, EVP of Entravision Network Radio.
"At LATV, we believe the total-market approach and the niche-market approach do not have to be mutually exclusive. In fact, you can still employ a total market approach without sacrificing your cultural sensitivity", said Andres Rincon. Andres also gave a heartfelt speech to the advertising community for their past and continued support of the network and for believing in LATV's mission and the importance of the bicultural/bilingual audience in the United States.
The event's #WildTalk theme celebrated significant achievements for LATV Networks:

Robust partnerships with Entravision, the country's #1 Hispanic radio network; Pulpo, the #1 ComScore rated Hispanic targeted ad network; and new media production collaborations with the NFL and the Los Angeles Times.
LATV is reaching new heights with an impressive 82% reach in the U.S. Hispanic Market
Continued growth in the company's syndicated shows, American Latino TV and LatiNation, extending their national footprint to over 90 markets nationally reaching over 89% of the US Hispanic market.
The successful launch of the network's Life con Acento YouTube channel, a hub of culturally relevant content made by Latino creators. The network also mentioned that they currently live in over 6 over-the-top platforms and looking to add a few more in the coming months. Andres Rincon commented: "We are not oblivious to the fact that our audience lives beyond the TV screen... and because of that, we're making sure that our content is readily available online."
Additionally, LATV announced its plans of becoming a multichannel network by end of 2016! LATV is developing a creative lab in the Los Angeles studios to help Influencers with anything from production, programming, cross-promotion, etc. The idea is to actively search for new talent and build a large pool of content creators. It's a unique platform that enables viewers to be part of LATV's content factory.
Luca Bentivoglio announced that this year the majority of the network's programming will now be US-produced: "from in-studio talk shows to a vast array of new productions that take us inside the art, the music, the sports, and the trends that Latino millennials are into today, LATV will generate original content for all platforms with the ability to seamlessly integrate branded entertainment into our content."
New Programming on LATV for 2016-2017
The Zoo – Premieres 5/16 - A fast-paced, high energy hour-long talk show featuring daily celebrity guests, games, trivia, and segments that cover everything from politics to pop culture, and the latest viral trends from the web, nothing is o¬ff limits on The Zoo.
@Issue with the LA Times– Premieres week of 5/16-The Los Angeles Times and LATV join forces to produce a half-hour political talk show hosted by LA Times Managing Editor and former White House staffer Alejandra Campoverdi.
Fan Nation – Premieres September 2016-Fan Nation is a high-flying, hard-hitting, in your face weekly recap of every NFL game created for and by NFL fans. LATV brings you exclusive interviews, unique in-depth analysis, commentary, and fantasy advice you won't find anywhere else. Fan Nation is your one stop shop for all NFL news and weekly updates. LATV and Fan Nation, is where you'll get the NFL Con Acento
Foodies – Premieres October 2016 - Life takes place one plate at the time. Join Vivi and Maria, two social media stars on the rise as they discover culinary gems, try new dishes and talk about the complexity of life on Foodies.
Fit with Fallon – Premieres October 2016 -Fallon Mercedes, Celebrity Fitness Reporter, Certified Personal Trainer and Nutritionist takes on a health adventure that educates and inspires individuals to get fit in a way that's both energizing and fun.
George X – Premieres May 2016 - The ultimate Hispanic voice in extreme sports. On George X: Extreme, he brings us the best in Mixed Martial Arts, Skateboarding, Surfing, Snowboard, Motocross and BMX for remote and in-studio interviews.
Luca Bentivoglio added: "We are creating unique U.S produced content that will talk directly to the Millennials, as they seek a voice that they can relate and trust. The voice is here and it's called LATV."