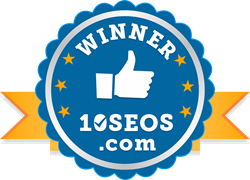 Boostability - Awarded and appriciated on 10seos
Lehi,USA (PRWEB) May 03, 2016
Boostability has been ranked #3 in the 10seos.com list of top 10 SEO companies in the USA. The company has been providing state-of-the-art solutions to a number of businesses for years. 10seos.com adopts extremely thorough evaluation process in order to put forward the names of best companies working all over the globe.
10seos.com include those companies in its listings that have added new dimensions to the digital world in past few years. The team of 10seos.com comprises of marketing specialists and SEO geeks. It believes that search engine optimization is an ongoing process and the companies should keep up with the latest variations in the online market. 10seos.com has been working strictly according to industry trends for years.
10seos.com works for the benefit of both users and vendors. Users can choose the best SEO services from the lists that are unveiled by 10seos.com. On the other hand, vendors are provided with ranking badges that they can display on their websites. The registration procedure on the portal of 10seos.com has been kept short so that companies may not find any difficulty in being a part of 10seos.com lists. First twenty registration on the website of 10seos.com are free. The offer gets over when first twenty companies successfully register on the website of 10seos.com.
About 10seos.com
10seos.com is among the best rating and reviewing segments in the world. The company unveils rankings and reviews of best SEO service providers that are working in different parts of the world. Search engine optimization is an ongoing process. Hence, 10seos.com choose those companies that keep themselves updated with trends in the online marketing industry. The team of 10seos.com consists of SEO geeks and a number of marketing specialists.
Virtuous Reviews is one of largest rating segments that unveils uncensored reviews for a plethora of online and offline services. This is the parent company of 10seos.com that ranks and reviews best SEO companies operating in different parts of the world.