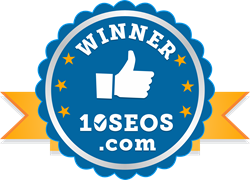 Awarded and appriciated on 10seos
USA (PRWEB) May 03, 2016
10seos.com has come up with the list of top SEO companies, operating in the USA. Top rankers in the list have been doing well in the same domain for years. The results are concluded on the basis of degree of a company's performance and its position in the online market.
Top 10 SEO companies operating in the USA are as follows:
1. WebpageFX
2. Forix
3. Boostability
4. SearchPro Systems
5. SearchRPM
6. Comrade Web Agency
7. Think BIG sites
8. Search Bloom
9. Ignite Visibility
10. HUEMOR
10seos.com is one of the leading ratings and reviews platforms that release rankings on monthly basis. The company has developed an extremely rigorous evaluation methodology so far. A lot of companies have to undergo this test in order take part in the listings of 10seos.com. The company has been working diligently with the aspects of online marketing since years. It ranks those internet marketing firms that are adding new innovations to the digital market.
10seos.com features extremely simple and short registration process. Then, the verified companies are provided with badges. Digital marketing has undergone many changes in past few years. Every now and then, new innovations are introduced in the market. Hence, to evaluate the best performer, 10seos.com has to look for the services that keep up with the changes. Team of 10seos.com keeps itself updated with the latest variations and trends in the online marketing domain.
About 10seos.com
10seos.com is one of the noblest rating and reviewing segments. Every month, it unveils rankings for different companies working in different parts of world. It releases global as well as local ranking lists. The companies that are found adding new innovations to the market, are provided with top ranks. The rating segment has developed a thorough evaluation methodology so far. A number of companies are put to test every month in order to take out the names of best seo companies. To unveil the listings, the team of 10seos.com has to keep up with the changes introduced in digital market, every now and then. Unlike other rating and reviewing segments, the registration process on 10seos.com is quite uncomplicated. Both vendors and users are benefitted with the services that 10seos.com provides.
Virtuous Reviews is a rating and reviewing firm that provides rankings to a number of services. It is the parent company of 10seos.com that is renowned for providing local and global rankings to best and deserving SEO companies.