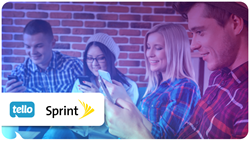 Tello's innovative rate plan and customer-first model is very exciting - Scott Kalinoski Vice President Sprint Wholesale Solutions
Atlanta, Georgia (PRWEB) May 05, 2016
Tello, the newest MVNO in the US is about to rewrite telecom history with the first "No Fees, Whatsoever" offering. The "No Fees, Whatsoever" promise from the young mobile operator running on the Sprint network is an innovative concept that challenges all other providers in the wireless market. The bold, new mobile carrier embarks on a mission to offer consumers clean price plans, straightforward services, transparent billing policies, and an easy online customer interface.
With Tello what you see is what you get, and pay for. The new MVNO not only promises no activation fee, no overage fee, no processing fee or no early termination fee, but offers its customers the opportunity to design a contract-free plan that works for their individual wireless needs.
If "no fees" is what Tello promises, flexibility comes as a most awaited perk. All those customers who don't want to be locked in a 2-year contract, now have a cost effective prepaid solution right at their fingertips. By visiting Tello.com they can subscribe to a prepaid service with no strings attached in less than 10 minutes. Online, fast & secure from the comfort of their homes.
Tello's philosophy is that the customer knows best, so they are free to customize their own plan starting at only $5/month. Tello offers a wide-range of affordable rate plans for every user group from traditional postpaid to Pay As You Go. Each month they can add 4G LTE data, minutes or texts based on their current need. And since plans change, Tello adapts its products to each individual's need. Customers can upgrade, downgrade, renew or cancel their mobile plans anytime without any cancellation fees.
No matter what plan customers choose they all get low rates for national calls, 4G LTE data, where available, and friendly service. Tello customers can also add PAYG credit to call worldwide at exclusive rates for international calls & texts, for example: 65 ¢/min to Cuba or 1.2 ¢/min to call China.
"Tello's innovative rate plan and customer-first model is very exciting. I think the straightforward offers and approach to how they do business will resonate in the market," says Scott Kalinoski, Vice President Sprint Wholesale Solutions.
What's the difference between Tello and all other MVNO's in the US? The "no fee, whatsoever" policy, the customizable plans, the low monthly plan prices, the free tethering, the real and friendly Customer Care team available by phone 24/7! Tello also has some intriguing device solutions as well. Customers can bring their own phone, any eligible unlocked CDMA device, or they can buy a new phone directly from Tello, with prices ranging from $66 to $380.
Tello entered the MVNO market with one strong mission: to provide cost effective, affordable mobile services with no hidden fees. Tello runs on the Nationwide Sprint® Network and offers coast-to-coast wireless coverage. Visit http://tello.com to subscribe to a prepaid service with no strings attached in less than 10 minutes.
About Tello
Tello.com is a telecom provider newly launched on the US market with a strategy focused on low rates, no hidden fees, customizable plans, prepaid services with no contract commitments and great customer care. The company behind Tello is present on the UK market since 2014 serving customers through its Tello.co.uk website. Both Tello.com & Tello.co.uk were designed by KeepCalling, a global telecommunications company registered in 2002 in USA. Presently, KeepCalling has been listed by Inc 5000 as one of the fastest growing companies in the USA for 5 consecutive years. In 2015 the company registered a revenue increase of over 200% from 2011 to 2014.