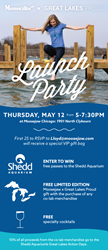 Chicago, IL (PRWEB) May 09, 2016
Moosejaw, the quirky outdoor retailer, is continuing their partnership with Great Lakes Proud (GLP) to support its mission of protecting the Great Lakes. Moosejaw is launching a new Moosejaw/GLP tee collection with 10% of the proceeds going to Shedd Aquarium's Great Lakes Action Day (GLAD) program. GLADs are workdays that Shedd staff and volunteers spend in the community cleaning up local beaches, collecting data through citizen science projects and restoring native vegetation in forest preserves to conserve and protect wildlife in the Great Lakes region.
To celebrate the continued partnership, a free event will be held on May 12th at the new Moosejaw shop at 1901 North Clybourn in the heart Lincoln Park. A special limited-edition gift is free with any item from the Moosejaw and Great Lakes Proud line. There will also be a chance to win a family four pack to Shedd Aquarium. Naturally, there will be free drinks at this event because Moosejaw believes that shopping is done best with a cold one in hand.
"As a Michigan-based company, the Great Lakes are an integral part of Moosejaw's history with everything from incredible lakefront campsites and kayaking adventures to midnight skinny dipping," said Eoin Comerford, Moosejaw's CEO. "Working with GLP is a great way to ensure those experiences endure for future generations."
Since spring of 2014, Moosejaw and Great Lakes Proud (GLP) founder, Austin Holsinger, have donated over $10,000 to help conserve the Great Lakes. The collaboration that was once just a t-shirt, has turned into a complete line including men's and women's t-shirts, sweatshirts, and water bottles.
"Preserving our local ecosystems through Great Lakes Action Days is an important action we take to create a positive future for the animals and plants around us," said Jaclyn Peterson, Manager of Great Lakes and Sustainability at Shedd Aquarium. "Receiving support from generous partners like Moosejaw and Great Lakes Proud makes our conservation efforts possible and helps keep the lakes great."
The limited edition Moosejaw and Great Lakes Proud product is available on Moosejaw.com or in Moosejaw Shops starting on May 1, 2016. To learn more about Great Lakes Proud visit http://www.GreatLakesProud.com.