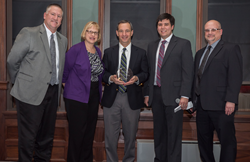 Every year McCarthy Metal Roofing sets an example for home improvement contractors across the country in their care for customers and quality installations. - Todd Miller, President- Classic Metal Roofing Systems
Raleigh, North Carolina (PRWEB) May 03, 2016
Local home improvement contractor, McCarthy Metal Roofing, LLC was recently honored with the Superstar Award by their metal roofing supplier Classic Metal Roofing Systems, for their performance in 2015. This award is given to only a few roofing contractors across North America who exemplify superior customer service and quality resulting in high volume sales. Tim McCarthy accepted the award on behalf of their organization at Classic Metal Roofing Systems' annual dealer meeting in Piqua, Ohio.
Classic Metal Roofing Systems' President, Todd Miller, praised McCarthy Metal Roofing "Every year McCarthy Metal Roofing sets an example for home improvement contractors across the country in their care for customers and quality installations. We are honored that they choose to partner with us to serve homeowners in their area."
Classic Metal Roofing Systems sells its metal roofing systems through a network of independent dealers across North America. Each year these dealers meet at Classic Metal Roofing Systems' facility in Piqua, Ohio for a week of intense training in order to better serve homeowners across North America.
Miller continues, "We relish the opportunity to honor McCarthy Metal Roofing as they continue to set an example for the entire industry. Day after day, we confidently recommend McCarthy Metal Roofing to provide beautiful metal roofing systems to homeowners."
About Classic Metal Roofing Systems:
Classic has been manufacturing "the world's most beautiful metal roofs" since 1980. They have a wide breadth of products that creates beautiful facsimiles of traditional shakes, shingles, slates, and tiles.
About McCarthy Metal Roofing:
McCarthy Metal Roofing provides residential and commercial metal roofing products and services throughout North Carolina. McCarthy Metal Roofing specializes in installing metal roofing from the leading manufacturers of permanent metal roofing. For more information about McCarthy Metal Roofing, please visit http://northcarolinametalroofs.com