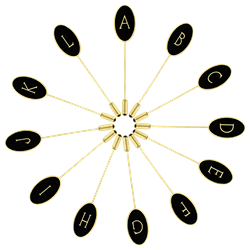 "We are very excited about the Letter Stick Pins",
(PRWEB) May 04, 2016
PinMart, Inc., one of the country's leading lapel pin manufacturers, has recently launched a new range of product, Letter Stick Pins. Twenty-six individually gold plated, black enamel screen letters from A-Z are printed on a gold plated background. Each pin is 7/8" long and 1/2" wide making it easy to style. Personalize your work attire, wedding day suit, or style this pin in your own unique way. The letter stick pin when accompanied with one of PinMart's Extra Large Black Textured Gift Box or Velour Pouch can also make for a great gift option.
"We are very excited about the Letter Stick Pins", says Rachel Geyer, Social Media Manager at PinMart, Inc. "It has been so fun to see how our customers who have purchased the letter stick pins are wearing and styling them. Thanks to the power of social media we are now able to see how our customers have personalized their handbag."
Anyone who is interested in, or collects vintage jewelry, knows all about brooches and pins. Yet one less commonly talked about pin is a stick pin. Stick pins resemble small dressmaker pins, except they are often longer and have quite unique tops. For well over 200 years, dating back to the 18th century, stick pins were very popular. Originally only worn by men, the stick pin with popularity began being worn by both men and women.
At times the stick pin is mistaken for a Hat Pin. While the design of both is similar - an ornamental top on a long single pin stem - it is the length of the pin that is the defining differentiation between the two. Stick pins have a shorter pin and the top is normally more thematic in styling, i.e. monogram or flower. In the last year, PinMart has released Cloth Textured Flower Stick Pins, Silk Rosette Stick Pins, and now the Letter Stick Pin.
About PinMart: PinMart, Inc.
PinMart, Inc. is a privately held company located in Elk Grove Village Illinois, a suburb of Chicago, specializing in the design and manufacture of stock and custom emblems, custom lapel pins, and recognition and awareness products. PinMart sells products via its online store and offers custom design and manufacturing. PinMart has taken advantage of its well positioned internet presence and now boasts a client list that includes over 300 of the Fortune 500 companies.
For more information about PinMart, Inc. call 1-877-PINMART or go to PinMart.com.