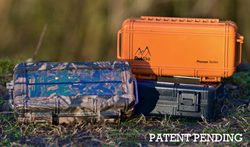 We're thrilled that our innovation has been such a big hit with people everywhere who need their devices to stay dry and fully charged while they hike, climb, bike, kayak and more
Mt. Laurel, NJ (PRWEB) May 03, 2016
RokPak, the all-in-one solar, battery pack, dry box combination that gives peace of mind when enjoying the great outdoors is also enjoying a great deal of success after shattering its crowdfunding campaign with over $100k raised on Kickstarter.
Pre-orders at discounted prices are now available on Indiegogo InDemand, a platform for successful crowdfunding campaigns to continue to fulfill consumer demand.
"We are very grateful to our backers for helping us make RokPak a reality. To reach such an incredible milestone is a strong validation for our product." said RokPak founder an avid outdoorsman Tim Svitak Jr. "We're thrilled that our innovation has been such a big hit with people everywhere who need their devices to stay dry and fully charged while they hike, climb, bike, kayak and more."
RokPak allows users to keep their devices alive in the most extreme environments and prevents the inconvenience and danger of not being connected when in need of help in remote places.
RokPak can quickly charge two devices simultaneously, while inside the waterproof dry box, using the Smart USB ports. This ensures that outdoor enthusiasts can keep their technology dry, secure and fully powered everywhere – from the river, to the woods, to a mountain top.
The RokPak Pioneer Series serves as a water and dust proof dry box and solar power combination that can charge a smartphone up to eight times (while in the dry box), enough to support a camping or canoe trip, hunting expedition, boating or outdoor excursion.
Built to withstand extreme heat and cold, the Pioneer Series offers a reliable power source, no matter the weather or location. Capable of working in temperatures as low as -4 Fahrenheit (-20 Celsius) and as high as 176 degrees Fahrenheit (80 Celsius), the drybox is a fast and reliable way to charge virtually any USB device, including smartphones, tablets, cameras and wearables.
The all-in-one rugged storage solution stores keys, wallets, phones, and other devices (even while charging them) inside it to keep them safe, and it includes a silicone net to keep items separate and secure. When closed, it's certified military standard 810G drop proof to protect sensitive technology from damage and it will keep everything inside free from sand, dust, dirt and mud. It has an IP67 waterproof rating and also floats.
The water activated LED SOS beacon can attract rescuers in an emergency and save lives. The SOS beacon can also be manually activated for use on land when hiking, hunting or camping.
It also features a smartphone notification system. When a phone is inside the RokPak, the flashlight will pulse to alert when a call is received. When enjoying the outdoors and the call can wait, just press the flashlight button once to ignore.
Perfect for everyone who loves the outdoors, from kayakers to extreme skiers to hikers, hunters, fisherman, campers, boaters and beach goers, this amazing Pioneer Series drybox is lightweight, comes with its own carabiner and strap to attach to a backpack, bag, or belt loop. RokPak is available in three colors, Camouflage, Safety Orange and Marine Blue. Additional features include:

12,000-mAh battery charges smartphones up to 8 times
Integrated Solar Panel
IP67 Waterproof
Military Standard 810G tested
2 smart USB ports allow for simultaneous charging of any USB devices
Water activated LED SOS beacon
Smartphone notification system
4 function flashlight for easy navigation at night
Automatic/fast charging 2.4A USB ports
Angled USB ports make plugging in easier
Less than 2 lbs.
RokPak's Pioneer Series is available for pre-order on Indiegogo InDemand with reduced early bird pricing. For more information and to pre-order RokPak visit https://www.indiegogo.com/projects/world-s-first-solar-battery-drybox-all-in-one#/
ABOUT ROKPAK
RokPak creates innovative technology to supply power to outdoor enthusiasts who need reliable access to technology wherever they go. RokPak aims to enhance the experience of lovers of the outdoors while creating previously non-existent high-quality products. By overcoming society's need to be connected to a power source with a passion for the outdoors, RokPak helps travelers and outdoor enthusiasts stay safe.