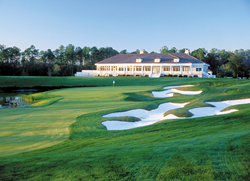 Now, the GolfBoard adds a whole new dimension to playing one of the top courses in the Myrtle Beach area.
Myrtle Beach, S.C. (PRWEB) May 05, 2016
Founders Group International (FGI), owner of award-winning golf courses throughout the Myrtle Beach, S.C. area, is now offering the GolfBoard® vehicle at its TPC Myrtle Beach golf course. The former site of the Senior PGA TOUR Championship, the popular TPC Myrtle Beach course is currently the only FGI course to offer the GolfBoard.
The GolfBoard is an easy-to-ride, one-passenger vehicle that transports a golfer, golf bag and clubs. Its design adds another enjoyable and fun element to the game by enabling a golfer to surf over the golf course turf while playing a round of golf. In addition, GolfBoards provide riders with an opportunity to burn additional calories as they steer the vehicles by leaning into turns and moving as a snowboarder, surfer or skateboarder does.
TPC Myrtle Beach has four of the vehicles on site for golfers to rent; the GolfBoard fee is comparable to the rental fee paid for a traditional golf car.
"We're excited to introduce GolfBoards at TPC as an option for golfers who want to inject a little extra fun and exercise into their golf game," said Nick Isom, Head Golf Professional at TPC Myrtle Beach. "The golf industry struggles with the challenges of attracting new golfers to the game, while continuing to engage those who are already playing golf. By introducing an innovation like the GolfBoard at TPC, we're giving younger golfers a cool new way to enjoy golf, while other golfers can enjoy the GolfBoard as something unique that will be a memorable part of their experience playing golf in Myrtle Beach."
Named the "Best New Product" at the PGA Merchandise Show when it was introduced in 2014, the GolfBoard continues to excite golfers, as well as leaders in the golf industry. Stina Sternberg, Golf Digest Global Golf Director, applauded the vehicle, writing "if every golf course offered GolfBoards, golf would be the most popular sport in the world."
"We're excited to see how our guests respond to these interesting new vehicles," said Isom. "The TPC Myrtle Beach offers an extraordinary experience as a golf course. Now, the GolfBoard adds a whole new dimension to playing one of the top courses in the Myrtle Beach area."
Meredith Kirk, lead instructor at the Dustin Johnson Golf School at TPC Myrtle Beach, demonstrates how the GolfBoard works in a video. Kirk, a former Mrs. South Carolina America, was recently named one of the "Most Beautiful Women in Golf" by Golf Magazine, and is the focus of a national sweepstakes, sponsored by FGI-owned Myrtle Beach Golf Trips.
GolfBoards can be reserved by calling TPC Myrtle Beach directly at 843-357-3399.
More information about TPC Myrtle Beach and FGI's 21 other great courses is available at myrtlebeachgolftrips.com.
About Founders Group International
Founders Group International (FGI) is the foremost golf course owner-operator company in the Southeastern United States. Formed in 2014 through various purchases and the 2015 acquisition of National Golf Management, FGI owns and operates 22 golf courses (423 holes) in and around Myrtle Beach, S.C., America's seaside golf capital.
FGI administers http://www.MBN.com, a leader in online tee time bookings, as well as package outlets Ambassador Golf and Myrtle Beach Golf Trips. With the help of Golf Insider's 100 percent player-generated course ranking system, thousands of golfers plan and assemble their ideal golf itineraries through FGI's assets, including "top-100 caliber" courses Pawleys Plantation Golf & Country Club, Grande Dunes Resort Club, TPC Myrtle Beach, King's North at Myrtle Beach National Golf Club, Pine Lakes Country Club and more than 80 other Myrtle Beach area courses.
FGI also has a division that does residential and retail development, and it has partnered with one of the biggest travel agencies in China to bring golfers and wedding parties to Myrtle Beach, S.C.
More information about Founders Group International, is available at http://www.foundersgroupinternational.com, http://www.mbn.com or MyrtleBeachGolfTrips.com.