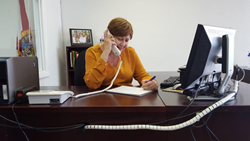 55% of adults with a hearing disability were unemployed in 2012, and those that did work earned $1,400 less per year on average than adults without a disability
Boca Raton, FL (PRWEB) May 26, 2016
As a longtime district aide for state legislators, Kathleen Roe spends her days listening to constituents' concerns— so when she started to lose her hearing, Kathleen worried that she would no longer be able to do her job.
That fear was well founded. 55% of adults with a hearing disability were unemployed in 2012, and those that did work earned $1,400 less per year on average than adults without a disability, according to the 2015 annual report from the Florida Coordinating Council for the Dead and Hard of Hearing.
Determined to continue working, Kathleen began looking for help– and she found Vocational Rehabilitation (VR), a federal/state agency that helps people with disabilities get or keep jobs.
At first, Kathleen was placed on a waiting list at VR, since she didn't require immediate assistance. "My hearing wasn't too bad yet, so that was okay," says Kathleen. "And I did get letters updating me and asking if I wanted to stay on the list. They kept me informed, and as soon as they could, they got in touch and said 'you're up, here's what we need to do,' and got it done quickly. I was very pleased!"
Kathleen continued working, moving across the state and back again to work for new representatives when her former bosses did not get re-elected, but her hearing continued to get worse. She even began to have trouble speaking, so her VR Counselor made an appointment to have her hearing and voice evaluated. She was diagnosed with bi-lateral hearing loss and vocal dystonia, which causes a tremor in her voice.
Kathleen learned that she needed hearing aids and a voice amplifier so that others could understand her. "When I talk softly the tremor isn't as bad, but nobody can hear me," she explains. "We got an ambulatory device, so if I'm out in public, I can still be heard, even when I'm talking softly." VR also provided a phone amplifier to ensure Kathleen could be heard clearly when she made calls.
"So here I sit in Representative Kevin Rader's local office with a voice and phone amplifier," says Kathleen. "It has helped me keep my job and helped me when I was looking for a job."
Though Kathleen is only recently a customer of VR, she has known about the agency for more than 15 years. "I think they [VR] do a great job, and my experience has not been just with me," she says. "Working with the legislature, I've had several people with difficulties who I've referred to VR, and they were amazing."
Kathleen is grateful for the help she has received to keep working in a job she loves. "My VR counselor was just terrific – very empathetic and solution-minded. She did her best to figure out which professionals I needed to see and what kind of equipment I needed to get, "she says. "I'm so lucky."
About Vocational Rehabilitation
Florida's Vocational Rehabilitation (VR) is a federal-state program committed to helping people with disabilities become part of America's workforce. The employer-focused website, https://abilitieswork.employflorida.com/, allows businesses to search at no charge for employees who are ready to go to work, as well as to post available jobs. VR has 90 offices across Florida, and last year helped 5,760 Floridians with significant disabilities find or keep a job. For more information about VR and its services, call (800) 451-4327 or visit http://www.Rehabworks.org.