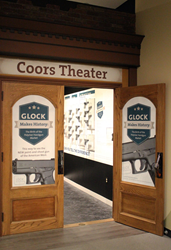 Gaston Glock, an Austrian engineer,...was an expert with polymers.
Cody, Wyoming (PRWEB) May 10, 2016
The Cody Firearms Museum at the Buffalo Bill Center of the West lays claim to one of the most prestigious firearms collections in the world. Now, its curator, Ashley Hlebinsky, has coordinated an exhibition featuring a more contemporary handgun, the Glock. While these pistols are common today, the history of the company is fairly recent.
"Despite its infancy, however, its contribution to firearms history is no less significant than manufacturers in business for hundreds of years," Hlebinsky observes. "German manufacturer Heckler & Koch made the first polymer pistol called the Volkspistole (VP/70) in 1970. Designers developed the Glock more than a decade later—a design that became the first commercially successful polymer-framed handgun on the market."
Gaston Glock, an Austrian engineer, was not initially a firearms designer, but was an expert with polymers. In 1963, he formed GLOCK KG, a company that produced and sold parts, both plastic and steel—particularly curtain rods, as well as knives for the Austrian military. His earliest employees hailed from the camera industry, making them experts in producing polymer components. The engineer's first pistol took a year to produce from design and concept to production; he applied for an Austrian patent in April 1981 for the pistol known as the Glock 17—a move that would make him a legend in the firearms world.
In the early 1980s, Glock and a team of firearms researchers developed the first Glock handgun with a polymer frame and an internal safety system. By 1983, he supplied 30,000 Model 17s to the Austrian military, and by 1986, the company received its first United States law enforcement contract and now has more than 60 percent of the U.S. law enforcement contracts. Today, nearly every handgun manufacturer produces a polymer handgun, demonstrating the undeniable impact that Glock had in bringing that industry to America.
This distinctive exhibition at the Cody Firearms Museum is generously sponsored in part by GLOCK, Inc. and the Gretchen Swanson Family Foundation. Read about other exhibitions at the Center of the West this summer by visiting the Center's website and clicking on "exhibitions."
Since 1917, the award-winning Buffalo Bill Center of the West in Cody, Wyoming, has devoted itself to sharing the story of the authentic American West. The Center, an affiliate of the Smithsonian Institution, is now open 8 a.m. – 6 p.m. daily through September 15 . For additional information, visit the Center's website (centerofthewest.org), or its pages on Facebook and Google+.