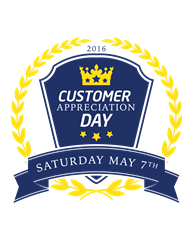 Missoula, Montana (PRWEB) May 04, 2016
Bretz RV & Marine invites the Missoula community for their annual Customer Appreciation Day this month. The free event encourages an interest in the RV lifestyle by featuring family friendly activities and educational seminars, while also celebrating the company's long history in the Missoula community.
Customer Appreciation Day originated as a way to show thanks to the Missoula community for hosting the Bretz RV & Marine dealership for over 48 years. It has since become an annual tradition for a growing attendance of over 2,500 people.
In the past, the event has featured a number of activities for the entire family, including a free steak and chicken dinner, an RV Lifestyle EXPO, outdoor lifestyle seminars, the $1,000 money machine, and the hugely popular prize drawings. This year, Bretz RV & Marine has again partnered with local businesses to make this event memorable. Businesses such as The Montana Club restaurant will prepare the free steak and chicken dinner, and MT Clown Works will organize a designated children's play area. This year for the giveaway, Bretz RV & Marine is offering the chance to win a custom-wrapped R Pod 171 Travel Trailer during their grand prize drawing in 2017. Additionally, the Bid to Buy offers a unique opportunity for customers to save thousands of dollars on their next RV or boat purchase for the unit of their choosing. It's as simple as filling out the bidding sheet, turning it in, and waiting for your price to be potentially approved.
This event not only holds value for those who attend, but also for the founders of Bretz RV & Marine who have hosted it for over 20 years. Mark Bretz, the owner of Bretz RV & Marine recollects the first years that Customer Appreciation Day took place.
"I remember when we had our first Customer Appreciation Day. My parents decided to close the shop for the weekend, and take all of our customers for an outing to Camp Utmost. We spent the weekend camping, eating, and learning more about the RV lifestyle with all of our customers. The event was such a hit that we continued to do it every year. Over time the event became so popular that the campground became too small to accommodate everyone. We then decided to move the event to the store premise, and shorten the event to a single day. That is when the event grew to what it is today."
As a family owned dealership, Bretz RV & Marine has made it a priority to make the Customer Appreciation Day as accessible and inclusive as possible. They will be offering ADA/Mobility Impaired Parking, a trolley provided by the UM Alumni association, and golf carts to transport guests to and from their vehicles in the parking lot.
The seminars may be one of the top highlights of the event, with tried-and-true experts of the outdoor lifestyle offering valuable insight on their areas of expertise. Published author and cook Paul Sidoriak will be cooking Moscow Mule brined pork and a Grilled Peach dessert. Trevor and Kit Johnson own their own tackle shop in Flathead Valley and will cover multi species fishing tips. Fishing guru Dick Zimmer will provide helpful tips for fishing Flathead Lake. Other speakers include Bob Hickey and Mike Howe. The schedule of events will be available on the Bretz RV & Marine website prior to the May 7th event and also at the Bretz RV & Marine store location in Missoula.
In addition to the May 7th event, Bretz RV & Marine will host a Customer Appreciation Sale that spans the entire month of May. This exclusive promotion will feature incredibly low sale pricing on new and used RVs and boat, with special deals as low as $97/month payments and 90 Day No Payments*. *Finance restrictions apply. Please see dealer for details.
About Bretz RV & Marine:
Bretz RV & Marine first started in 1967 when Frank and Vi Bretz bought their first Aloha Trailers and began operating a service station in Missoula. Eventually passing on ownership to their two sons Mark and Dave, the family-owned dealership now boasts over 55 years of experience and a location on North Reserve in Missoula with a recently expanded 20,000 square foot showroom. Today, Bretz RV & Marine currently has three different locations in Missoula, Boise, and Billings. Also, the dealership is proudly recognized as the largest RV & Boat Dealer in Montana, Idaho, Eastern Washington, Wyoming and the Dakotas. It is equipped with an extensive selection of RV and Marine vehicles, 26 fully equipped service bays, a dump station, Parts and Body Shop, 99/cent propane, and is the dealership in Montana with the most RVDA technicians under one roof. Bretz RV & Marine continues to set the highest standards in customer service.
Keep updated on Bretz RV & Marine news, and join in on the fun during Customer Appreciation Day and beyond.
Explore and Share:
Facebook: Like our Facebook page at http://www.facebook.com/bretzrvandmarine.
Twitter: Follow @BretzRV or hashtag #BretzRV.
Pinterest: Follow our RV, Boat, and Travel themed boards at http://www.pinterest.com/bretzrvandmarine.
Youtube: Subscribe to our Youtube channel MontanaRVDealer.
For more information on Bretz RV & Marine, please visit http://www.bretzrv.com or check out the Facebook page at http://www.facebook.com/bretzrvandmarine.