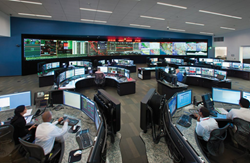 We look for critical thinking skills, level heading processing, excellent communication skills and the ability to lead people.
Rocklin CA (PRWEB) May 05, 2016
Sierra College Construction & Energy Technology (CET) instructor, Steve Geiger, had a dual purpose for taking his Energy Efficient Construction Class on a field trip to California ISO in Folsom. Not only did the students learn about how California ISO manages electricity flow throughout the state, they got to see an excellent example of a LEED Platinum Certified Building.
California ISO is nonprofit public benefit corporation that balances electricity supply and demand by managing the flow of electricity across high-voltage, long-distance power lines that make up 80 percent of California's transmission grid.
Field trips are an essential part of the hands-on program at Sierra College in Rocklin, CA explained Geiger. "Looking down into the control room showed the students the big picture of energy use in California," said Geiger. "They became more aware of the broad range of careers that are energy related." The Sierra College Construction and Energy Technology program offers certificates or degrees in Residential Building Construction or Construction Management, or Photovoltaic Advanced Skills Certificates. Sierra College recently announced that students can apply now for summer and fall semesters.
Peter Klauer, Smart Grid Technologies and Strategy, California ISO Information Technology showed them the huge 6' x 80' monitor that indicates electricity transmission in real time. "The grid must be balanced continually to keep with established ranges," said Klauer. "That assures that electricity is available when people and businesses need it."
Klauer explained that operations staff must be able to think on their feet, react calmly and follow procedures. "We look for critical thinking skills, level heading processing, excellent communication skills and the ability to lead people through a series of operations," said Klauer. He mentioned that there are also career opportunities in technology for those who can interpret and analyze data as well as for electrical and systems engineers.
Steve Cloney, Manager, Campus Operations, California ISO, provided the tour of the facilities, highlighting the innovative design elements that helped the building qualify as a LEED Platinum Certified Building. "Choosing a building that is designed to save water, conserve energy and provide natural light sends a message that the organization cares about how environment impacts the people who work there," said Cloney. "As a result, occupying a sustainable building starts to change the culture of the people who work there."
The students were excited to see how environmental stewardship impacted the design, architecture, materials, equipment choices and construction methods. "It takes excellent project management skills to manage a construction project of this magnitude," said Cloney.
Geiger compared the California ISO Building to green tiny house project that CET students are working on to gain practical green construction skills. "Seeing the elements of the LEED certified facilities was an eye-opener for the students," said Geiger. "The field trip helped them envision what we are trying to build on a much smaller scale. Hearing the potential for construction to have a culture impact on those who occupy the building was intriguing to the students."
Students who think they'd enjoy learning through practical hands-on solar and construction projects and industry field trips can find out about Sierra College CET classes, certification, degrees or CSU Transfer at the Sierra College solar and construction webpages.
Sierra College also has one of the highest pass rates (90th percentile) in the country over five years for the North American Board of Certified Energy Practitioners (NABCEP) Entry Level exam recognized nationally by the solar industry. After completing CET 40 - Beginning Photovoltaic Systems and CET 42 - Intermediate Photovoltaic Systems, Sierra College students are prepared to take the NABCEP exam. Students can earn a Photovoltaic Advanced Skills Certificate after completing these courses plus CET 44 - Advanced Photovoltaic Systems.
Learn more about Sierra College CET by contacting Steve Geiger at (916) 660-7843 or sgeiger(at)sierracollege.edu, and going to the Sierra College Construction and Energy Technology websites.
About Sierra College
Sierra College District is celebrating its 80th Anniversary in 2016, and the Nevada County Campus in Grass Valley is celebrating 20 years. Sierra College serves 3200 square miles of Northern CA with campuses in Roseville, Rocklin, Grass Valley, and Truckee. With approximately 125 degree and certificate programs, Sierra College is ranked first in Northern California (Sacramento north) for transfers to four year Universities, offers career/technical training, and classes for upgrading job skills. Sierra graduates can be found in businesses and industries throughout the region.