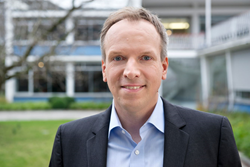 Cologne, Germany (PRWEB) May 04, 2016
cleverbridge, a global subscription billing provider, announces cleverbridge CTO and co-founder Martin Trzaskalik will present at SoftSummit Europe 2016 to be held May 10 at the Novotel Paddington in London. Trzaskalik will share on "Subscription Billing as a Key Success Factor for Software Monetization" at the event that will discuss strategies for gaining market share, protecting revenue and future-proofing business models against the risks and costs of constantly changing technology.
Trzaskalik's presentation will examine the "redefinition of subscription"; why subscription is more than charging the same amount every month or year; monetization of customer relationships; how subscription ties into trends like "from product to service" and IoT; and why it is so interesting for software. He'll also cover the B2C versus B2B continuum – self-service versus heavy-touch and credit card versus invoicing. Attendees will also hear subscription use cases and how it looks in the real software world.
Trzaskalik is an expert in technology – from conceptualization to implementation to technical platform operation – and has 20 years of experience in the monetization of software and digital services. At cleverbridge, he creates scalable, secure and high-performing solutions for leading global software and subscription businesses. Trzaskalik has a proven track record of architecting and building monetization solutions from strategic product vision to drive maximum client success. He was the Director of Product Development for element5 before founding cleverbridge in 2005. Trzaskalik studied Business Informatics at the University of Cologne, Germany.
With rapidly changing market demands and technology, companies are rethinking their business strategies and software monetization models in order to stay profitable and become even more successful in the future. Hosted by Flexera Software, SoftSummit is the key event for business executives seeking to turn a threat into an opportunity. The event addresses market developments and challenges in an interactive format, bringing together industry analysts, subject matter experts and peers.
Schedule a meeting with cleverbridge at SoftSummit Europe 2016 to learn how we can help you maximize recurring revenue streams and provide the best possible customer experience by contacting inquiry(at)cleverbridge(dot)com. To learn more about cleverbridge, please visit http://www.cleverbridge.com.
About cleverbridge
cleverbridge provides global subscription billing solutions that help companies build long-term customer relationships and grow recurring revenue streams. With its flexible, cloud-based billing and monetization platform, cleverbridge integrates seamlessly with client systems, simplifies subscription business models and delivers an optimized online customer experience. Leveraging cleverbridge expertise, technology and services, clients monetize products and services more effectively, rapidly expand their global subscriber base and maximize customer lifetime value. Headquartered in Cologne, Germany, cleverbridge has offices in Chicago, San Francisco and Tokyo. For more information, visit http://www.cleverbridge.com.