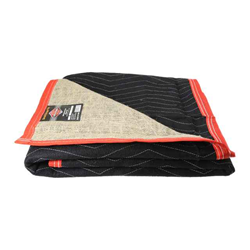 Urbana, IA (PRWEB) May 05, 2016
As the official kickoff to moving season gets underway, US Cargo Control has added several new products to its line of professional moving supplies.
The moving blankets category received the greatest number of new product additions, including new smaller sizes and larger quantity packs of the company's popular Econo Saver moving pad and the Moving Skin. Burlap moving pads have also been added; these versatile blankets offer excellent protection with less loft, thanks to a full side of natural burlap. The breathable fabric makes them great for protecting outdoor items, in particular: tools, bicycles, patio furniture, etc.
Additionally, a selection of specialty blankets has been added, including casket covers and sound blankets.
Other new moving supplies now available through US Cargo Control include a durable, solid wood platform dolly, replacement parts for hand trucks, and two sizes of carpet shields, 2" and 3" wide packing tape, and plastic furniture covers.
Tonya Kramer, Account Manager for the company's Moving Supplies division, says the new products are all additions customers have specifically requested.
"The majority of our customers are national moving companies, so they know the products they need to get the job done quickly, safely, and professionally," said Kramer. "We're always grateful for their feedback and do our best to get them what they're looking for."
Kramer says a new E-track storage bag is the next new product to roll out soon and will be available when the busy moving season is in full swing.
"This is our favorite time of the year - helping our customers during their busiest time - so we're thrilled to be able to provide them with lots of new products."
Customers can order online at USCargoControl.com, or call the company's dedicated Moving Supplies sales directly at 800-989-4863.
About US Cargo Control
US Cargo Control is a leader in the cargo control industry, specializing in lifting slings, cargo control, rigging equipment and moving supplies. Focused on offering quality products, timely delivery, and an excellent customer experience, customers can purchase products on the company's website, USCargoControl.com or by phone at 866-444-9990.