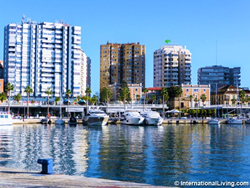 People often assume Europe is too expensive to be a viable overseas haven for budget-minded retirees. But Southern Spain debunks that misperception.
Baltimore, MD (PRWEB) May 04, 2016
People often assume Europe is too expensive to be a viable overseas haven for budget-minded retirees. But Southern Spain debunks that misperception, according to a new report from InternationalLiving.com.
This region is most famous for its beaches and resort towns, and the southern province of Andalucia, particularly the area around the Costa del Sol, is the epitome of good-value, romantic Spanish living. It offers long sandy beaches, white-washed hill towns, a sunny climate…and a surprisingly affordable cost of living.
Three-course meals for two cost as little as $22, rent can be found from $540 a month. All in, a couple can live comfortably on $2,000 a month.
It means retirees who might be forced to scrimp and save in the States in order to live comfortably on such a modest budget, could instead take their funds to southern Spain and upgrade their lifestyle in a place where the sun shines, the ocean is near, and the pace of life is relaxed and low-stress.
Marbella is the glitzy heart of this stretch of coastline, attracting tourists and the wealthy jet set from around the world. But despite its glamorous reputation, Marbella is still affordable. Two-bedroom apartments about a 10-minute walk from the town's popular beach can be found from $157,000, and properties closer to the sea start at around $225,000.
Just a short drive from the coast, hidden among the green hills, are some of Spain's most enchanting and affordable towns. Midas sits on a hilltop 20 minutes from Malaga. Founded in the second century, it's held onto its traditional Andalusian atmosphere: narrow cobblestone streets, crammed on either side by whitewashed stone buildings. Many are boutiques, local artisan jewelry stores, and expat-owned chocolate shops.
Here a two-bedroom, two-bathroom apartment a short walk from the town center is available for just $92,400. Rentals are equally good value. A two-bedroom apartment in the heart of the village start at around $565 a month.
The full report on this affordable area of Spain can be read here: Beaches, Romance, and Rent of $540 a Month in Europe.
Editor's Note: Members of the media have full permission to reproduce the article linked above once credit is given to InternationalLiving.com.
Media Contact: For information about InternationalLiving.com content republishing, available source material or to book an interview for radio, TV or print with one of our experts, contact Associate Editor Carol Barron, 772-678-0287 (US), CBarron(at)InternationalLiving.com or visit the Media Center. For automatic updates on the most current stories, follow International Living Media on Twitter.
For 35 years, InternationalLiving.com has been the leading authority for anyone looking for global retirement or relocation opportunities. Through its monthly magazine and related e-letters, extensive website, podcasts, online bookstore, and events held around the world, InternationalLiving.com provides information and services to help its readers live better, travel farther, have more fun, save more money, and find better business opportunities when they expand their world beyond their own shores. InternationalLiving.com has more than 200 correspondents traveling the globe, investigating the best opportunities for travel, retirement, real estate, and investment.