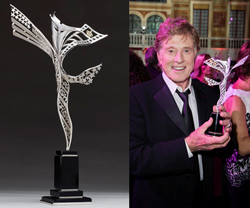 Jazz is great and Made In New York Jazz Competition is a great opportunity for musicians to launch their career and I am happy to be part of this amazing project" says Alex Soldier
New York, NY (PRWEB) May 03, 2016
Things just keep getting better for the winners of Made in New York Jazz Competition, as Alex Soldier, creator of exquisitely unique conceptual, contemporary, and haute couture jewelry as well as intricately detailed objets d'art, joins the growing list of legendary supporters of the competition. Mr. Soldier will create a special piece, which will be presented to the winner at the Made in New York Jazz Competition next Gala in 2017.
"We are honored to have someone of Mr. Soldier's caliber and influence join us in celebrating Jazz," says Made in New York Jazz Competition founder, Misha Brovkin. "We are delighted that he shares our love for music and thrilled about him contributing one of his magnificent works of art as an award to our winner," continues Brovkin.
While Mr. Soldier has been the recipient of several coveted awards such as the AGTA Spectrum Award and the Platinum Passion Award, his innovative designs have also been awarded as prizes to notable artists. The Princess Grace Award, commissioned by the Princess Grace Foundation USA, is presented to emerging artists in theater, dance, and film. The Golden Elf Triumph Award is an intricately designed statuette awarded annually to exceptional Russian artists in art, literature, and music. Mr. Soldier's work is also popular among celebrities who crave one-of-a-kind art pieces. "Jazz is great and Made In New York Jazz Competition is a great opportunity for musicians to launch their career and I am happy to be part of this amazing project" says Alex Soldier
"Mr. Soldier's special creation will add another layer of distinction to the Made In New York Jazz Competition, which will increase the value of the contest and help spread the love of Jazz throughout the world," expresses Brovkin.
In addition to being awarded an Alex Soldier original creation, the winner of the competition will also receive a cash prize, trip to New York City, and the enviable privilege of performing live on stage with Jazz legends.
About the Made In New York Jazz Competition
The Made in New York Jazz Competition enters its fourth year in 2016. Featuring a worldwide audience of jazz fans, as well as a slate of musicians from dozens of countries, the Made In New York Jazz competition made its mark on the Internet as the first-ever online jazz contest. Now, Made In New York is number one online jazz competition on Google, Bing and Yahoo - out of 40 million results. With over 2.5 million video views, Made In New York has over 30,000 registered jazz musicians and fans, and that number is constantly growing.
Contact:
Misha Brovkin
misha(at)madeinnyjazz(dot)com
Web: http://madeinnyjazz.com
Facebook: https://www.facebook.com/madeinnyjazz
Alex Soldier
Times Square
1560 Broadway , Suite 911
New York ,10036
Tel . 212 – 354-4244
E-mail : design(at)alexsoldier(dot)com
Twitter: https://twitter.com/madeinnyjazz